Emergency Use Authorization (EUA) is a valuable asset that the FDA uses to make exceptions for unapproved medical devices during public health crises. It has brought up some controversy since COVID-19 started making its way around the globe. Regardless, there is little doubt that it has had a major impact on the regulatory policies of industries everywhere. EUAs are affecting more industries than just the medical device manufacturers. They're also playing a role in speeding up approvals for other manufactured products.
Regulatory Impact of EUA Authority
Since just February 2020, the FDA has issued EUAs for more than 100 different elements, including drugs, devices and biologics. Other organizations, like those making personal protective equipment, ventilators and hand sanitizers, have gone through the EUA process for distribution approval.
At the beginning of the global pandemic, hand sanitizer started flying off of retail shelves due to the increase in COVID-19 fears. Doctors became desperate for PPE and respirators as patients entered hospitals in critical condition from the illness. Pharmaceutical manufacturers that produced these types of products wanted to make sure their goods reached the market faster. The quicker they were available for sale, the more patients and doctors could start reaping the medical benefits. As a result, it became more common to use EUA's to skip over the lengthy 510(k) submission processes.
While this strategy can help manufacturers turn out new products more quickly, what happens after the emergency has passed? Vaccine acceptance rates in many countries are climbing.  If you work in our regulated industry, how will you keep products on the market over the long term?
---
Need help preparing your product for a EUA?  Contact RCA Now →
---
What You Need to Know About the Regulatory Impact
Receiving EUA approval provides a faster way for manufacturers to put their products on the shelves, even if those products are still in the experimental phase. The regulatory impact of EUA approval during COVID-19 is that more products are receiving fast approval than ever before. That said, it's crucial to remember that this approval is only temporary.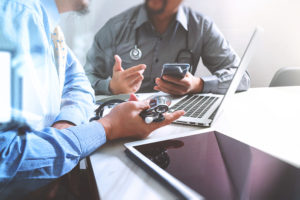 The government needs to declare a state of defense or public health emergency before an EUA can be issued for a product. After the emergency passes, you'll have to go through the regulatory approval process to ensure that your product is effective and safe to use.
The COVID-19 vaccine has shown high efficacy and social distancing is becoming more relaxed. You need to consider long-term portfolio strategies so your product can continue its first-to-market advantage.
Preparation is an essential part of bringing products onto the market and maintaining a consistent supply chain flow. To have a product authorized, you may need to start gathering relevant information and resources. This can include test data, labeling requirements and clinical support. Going through the full approval process will ensure that your product is fit to serve the public on a long-term basis.
About RCA®
Regulatory Compliance Associates® (RCA) provides healthcare consulting services to the following industries for resolution of compliance and regulatory challenges:
We understand the complexities of running a life science business and possess areas of expertise that include every facet of R&D, operations, regulatory affairs, quality, and manufacturing. Our life science consultants are used to working on the front lines and thriving in the scrutiny of FDA, Health Canada, MHRA and globally-regulated companies.
As your partners, we can negotiate the potential minefield of regulatory compliance and regulatory due diligence with insight, hindsight, and the clear advantage of our unique expertise and experience.
Founded in 2000
Expertise backed by over 500 industry subject matter experts
Acquired by Sotera Health in 2021
About Sotera Health®
The name Sotera Health® was inspired by Soteria, the Greek goddess of safety, and reflects the Company's unwavering commitment to its mission, Safeguarding Global Health®.
Sotera Health Company, along with its three best-in-class businesses – Sterigenics®, Nordion® and Nelson Labs®, is a leading global provider of mission-critical end-to-end sterilization solutions and lab testing and advisory services for the healthcare industry. With a combined tenure across our businesses of nearly 200 years and our industry-recognized scientific and technological expertise, we help to ensure the safety of over 190 million patients and healthcare practitioners around the world every year.
We are a trusted partner to more than 5,800 customers in over 50 countries, including 40 of the top 50 medical device companies and 8 of the top 10 pharmaceutical companies.
To begin the Regulatory Compliance Associates® scoping process today, please enter your information in the blue form below and click the submit button at the bottom of the webpage.