Pharmaceutical Compliance Assurance Services
Increasingly, life science companies are feeling the pressure of greater scrutiny by regulators and responding by developing sustainable compliance assurance strategies. Whether it's preparing for an audit, developing a response to an FDA finding, or remediation to an adverse event, Regulatory Compliance Associates® Inc. can help.
The regulations process surrounding pharmaceutical companies can be tricky for even the most experienced industry veteran to understand, and just one misstep could mean significant and lasting consequences for your business. At RCA® Inc., we offer the experience and resources necessary to guide you in quality compliance.
From family-owned enterprises to multinational Fortune 100 companies, we work with all types of pharmaceutical businesses to help navigate the stringent and continually changing demands of the FDA and other regulatory agencies. Over 500 industry experts, FDA veterans and consulting professionals oversee our services to ensure that your business is protected to the fullest possible extent.
We offer many Compliance Assurance services for the Pharmaceutical industry including:
The best thing you can do to avoid a compliance crisis is to take preventive measures that will locate and remedy any outstanding issues. At RCA® Inc., our experts have decades of experience in regulations compliance. We'll help you evaluate your quality systems and processes and assess any weaknesses to create an ideal solution.
Our range of assessment services include:
cGMP
Quality Infrastructure
PAI, Validation
Facilities and Maintenance
Laboratory (GLP)
Process Assessments to Streamline and Optimize New and Existing Systems.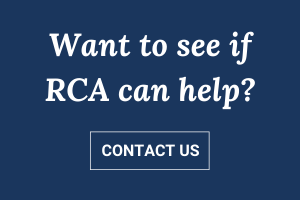 Periodic internal audits are necessary to both ensure the continued compliance of your organization and maintain your readiness for an FDA inspection — and we have the resources to help. Our experienced team of ASQ-CQA and RABQSA certified auditors is available to perform a range of internal audit services, including:
Supplier
API
Contact Manufactures (CMO)
Internal
Quality Systems
Baseline
Verification
Clinical (CRO) and Clinical Manufacturing
Data Integrity
503A & 503B
Combination Products
Unfortunately, compliance crises do happen, and they can have a lasting impact on your business if you aren't prepared to deal with their consequences. We can assist you in developing a customized response and plan of action to help remediate the effects of a regulatory warning. Our experts are here to provide the guidance you need most during this time, with response solutions for:
FDA Form 483
Warning Letter
Consent Decree
Import Bans
Preparation, Training, and Inspection Readiness 
Sitting back and hoping for your next FDA inspection to go well isn't an option — you need active preparation and training tailored to your needs and business goals. RCA® Inc. will help you thoroughly prepare for inspections with an extensive range of training programs, mock inspections and other readiness solutions, such as:
Mock Inspections
Back Room/ Front Room set-up and process
Inspection Assistance
Response Letter Assistance
Proof Book Development