Pharmaceutical Strategic Consulting
Whether it's a corporate needs analysis, corporate growth / transformation strategy or due diligence / acquisition, Regulatory Compliance Associates® Inc.'s worldwide experience can help ensure a successful mix of top-notch advice and people so your engagement is on time, and on budget — and you're never embroiled in a costly mistake.
As an industry leader in pharmaceutical strategy consultancy, our team has the exceptional knowledge and expertise to help you work through the challenges of pre- and post-merger integration and company growth. We offer a range of Strategic Consulting services for the Pharmaceutical industry, including:
Portfolio management allows you to determine which projects show potential and which should be abandoned — encouraging the review of all products across a portfolio to best make decisions that impact a broad product line. RCA will help you evaluate your projects and investments using a range of portfolio management services, such as:
Needs analysis
Risk mitigation, partnerships and strategy alliance
Asset evaluation
Stage-gate governance
R&D portfolio prioritization
Manufacturing Optimization and Aging Facilities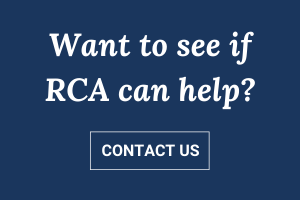 Many companies fail to take time to evaluate their manufacturing processes and determine how these methods impact their bottom line. We'll help you maximize your ROI, validate manufacturing automation and ensure compliance of aging facilities and equipment.
Our services include:
Program analysis
Improvements in lab efficiency and throughput
Problem-solving solutions
Risk assessments
Validation support for aging facilities
Cost and waste reduction solutions
Mergers and Acquisitions / Due Diligence
Before you move forward with an M&A deal, you need to have a clear understanding of the associated benefits and risks. Our expertise gives us unique insight as we critically evaluate a target company's characteristics to ensure a good fit for your business.
We offer M&A and due diligence solutions including:
Regulatory and quality due diligence
Personnel, facility and equipment assessments
Post-merger integration
Risk identification
Small and large companies alike deal with staffing problems at some point in their lifetime. Whether you're experiencing a short-term staffing issue or an unplanned crisis affecting your entire business model, we'll craft a solution specific to your most pressing needs during this time.
Our pharmaceutical staffing support services include:
Project management
Virtual support
Staff augmentation and temporary placement of unfilled positions
Organizational changes due to FDA compliance or evolving business needs can significantly affect the way a business is run, and these changes should be supported through a standardized change management system (CMS). RCA will help you implement a CMS after:
Supplier changes
Facility upgrades
Changes to address complaints or comply with standards
Cost reduction initiatives
Contact RCA for Your Strategic Consulting Needs
With more than 15 years of experience in helping both local startups and multinational Fortune 100 companies, RCA is here to help you with all of your pharmaceutical strategic consulting needs. We customize an approach tailored to the requirements of your company and industry demands and give you the utmost confidence in your company's growth.
Thousands of companies worldwide have trusted us to create their ideal strategy consulting solution. If you're ready to join them and experience the difference RCA can make, contact us today.