In this soundbite from RCA Radio, Dr. Helin Raagel and Dr. Matthew Jorgensen from Nelsons Labs explain why the Cytotoxicity test during a biocompatibility evaluation is the most important test you will run.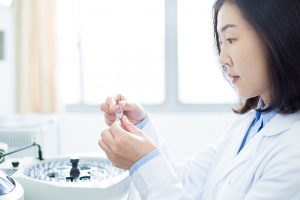 What is Cytotoxicity? – Cytotoxicity is the degree to which a substance can cause damage to a cell. A substance or process that causes cell damage or death is referred to as cytotoxic, "cyto" meaning cell and "toxic" meaning poison. (Will the device kill or harm the cells it comes in contact with?)
There are three reasons why the cytotoxicity test is the most important test you run during a biocompatibility evaluation.
The test can be run quickly.
It is the most cost-effective test in an evaluation.
Most evaluation concerns come from the cytotoxicity results.
---
---
About Nelson Labs
Every year, hundreds of medical device, pharmaceutical, and tissue companies make Nelson Labs their testing laboratory of choice. For them, the decision is easy. Nelson Labs is a clear leader in the microbiology and analytical chemistry testing industry, offering more than 800 laboratory tests and employing more than 500 scientists and staff in state-of-the-art facilities. We are known for exceptional quality and rigorous testing standards, but it is our focus on the bigger picture that sets us apart. We look beyond test results and partner with you to achieve your long-term business goals — mitigating risk, being first to market, and succeeding with your customers.
Companies choose Nelson Labs for our:
Thought leaders and approachable experts. We give you direct access to industry authorities who understand your business and add value every step of the way.
Customer-centric culture. We take the time to understand your vision. Your goals become our goals.
Real-time project management tools and a dedicated client portal. We provide proactive information, keeping you informed and in control.
Metric-driven testing processes. We're our own toughest customer, holding ourselves to goals exceeding 99% for things that matter most to you, like quality, turnaround time, and testing accuracy.
Global compliance expertise and support. We act as a trusted advisor, helping you navigate the ever-changing compliance landscape.
See how we can help you mitigate risk, be first to market, and succeed with your customers.
To begin the RCA® scoping process today, please enter your information in the blue form below and click the submit button at the bottom of the webpage.