Quality Metrics: Optimizing Your QMS to be FDA compliant.
This FDAnews virtual summit webinar can empower your team to develop a world-class QMS by implementing the essentials of quality management maturity (QMM) metrics. Additionally, you'll understand more about the FDA's Center for Drug Evaluation and Research (CDER) and Center for Devices and Radiological Health (CDRH).
This session will discuss best practices for measuring quality, rating your QM program, and auditing implementation.
Quality Management
Sessions will clearly demonstrate the importance of quality control management to standardize efficient behaviors via meaningful metrics. Finally, detail on how to ensure your quality culture is a high-powered functional tool.
Achieve True Quality Culture and Stay Compliant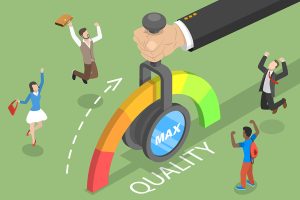 You'll come away with the knowledge and know-how to create a world-class QMS:
What the FDA looks for in a Quality Management System
How to ensure your continuous improvement initiative addresses GMP and other regulatory requirements
Planning quality management and meeting FDA standards expectations resulting from the COVID-19 experience
How to ensure your quality management process meets the quality expectation of consumers
The importance of creating quality milestones and incentives that are patient-focused and transparent
Why total quality control gives you a competitive advantage over your competitors and credibility with the FDA
How to develop QMM metrics that go beyond mere numbers and actually measure quality
The importance of your document control system to standardize efficient behaviors via quality metrics
How to meet supply chain challenges and evaluate vendors to ensure quality service
Training you data quality manager about data integrity, risk management, and quality management
Establishing a culture of quality throughout your QMS system and organization
RCA Speakers

Steven Lynn, MS, RCA's Executive Pharmaceutical Consultant, has more than 20 years of quality and regulatory compliance-related experience in the pharmaceutical, biopharmaceutical, medical device, blood, plasma, and tissue industries. Joining RCA in September 2020, Steven serves as executive principal consultant of pharmaceuticals. Prior to joining RCA, he served in executive leadership roles with global accountability in the private sector as well as at the FDA. While at the agency, he was the director of CDER's Office of Manufacturing and Product Quality. 
---
Seyed Khorashahi, Executive Vice President of Medical Device and CTO, has more than 25 years of experience leading research and development teams in all aspects of creating safety-critical medical devices. He has held leadership positions at Covidien (Medtronic), Baxter, and Beckman Coulter, Inc.. Additionally, he has an extensive background in medical device product development, quality systems, regulatory affairs, mergers and acquisitions, engineering, and business strategy. 
About FDA News
Since 1972, WCG FDAnews has been dedicated to providing executives in the life science community with top-notch domestic and international regulatory, legislative, and business news. More than 200,000 pharmaceutical and medical device professionals rely on our newsletters, databases, books, special reports, webinars, and conferences to stay in compliance with ever-changing regulations on quality, manufacturing, safety, and inspection issues.
About RCA
Regulatory Compliance Associates® (RCA) provides healthcare consulting services to the following industries for resolution of compliance and regulatory challenges:
We understand the complexities of running a life science business and possess areas of expertise that include every facet of R&D, operations, regulatory affairs, quality, and manufacturing. We are used to working on the front lines and thriving in the scrutiny of FDA, Health Canada, MHRA and globally-regulated companies.
As your partners, we can negotiate the potential minefield of regulatory compliance and regulatory due diligence with insight, hindsight, and the clear advantage of our unique expertise and experience.
Founded in 2000
Headquartered in Wisconsin (USA)
Expertise backed by over 500 industry subject matter experts
Acquired by Sotera Health in 2021
About Sotera Health
The name Sotera Health was inspired by Soteria, the Greek goddess of safety, and reflects the Company's unwavering commitment to its mission, Safeguarding Global Health®.
Sotera Health Company, along with its three best-in-class businesses – Sterigenics®, Nordion® and Nelson Labs®, is a leading global provider of mission-critical end-to-end sterilization solutions and lab testing and advisory services for the healthcare industry. With a combined tenure across our businesses of nearly 200 years and our industry-recognized scientific and technological expertise, we help to ensure the safety of over 190 million patients and healthcare practitioners around the world every year.
We are a trusted partner to more than 5,800 customers in over 50 countries, including 40 of the top 50 medical device companies and 8 of the top 10 pharmaceutical companies.
To begin the Regulatory Compliance Associates® scoping process today, please enter your information in the blue form below and click the submit button at the bottom of the webpage.