Q: My company is preparing to transfer in a new product to one of our manufacturing facilities. Previous technology transfer pharmaceutical projects have not always gone smoothly for us. How can I ensure that this transfer goes well?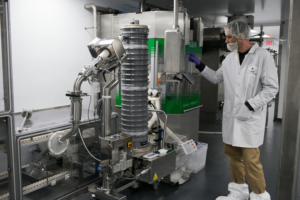 A: This is a great question and frequently asked. It is important to understand the requirements for a successful technology transfer. These concepts are used when transferring product from a research environment to clinical trial manufacturing, a clinical-trial manufacturer to a commercial-product manufacturer, between company facilities, and/or to a contract manufacturer.
Let's say that Company A wants to outsource the manufacturing of product to Company B, a contract manufacturer. Company B cannot perform all of the necessary testing associated with the product manufacturing and release, and they need to contract out some of the testing to Company C. In this case, the technology transfer would involve three parties who will need to be included in the technology-transfer process.
Tech Transfer
The questions to answer for a successful product transfer become:
Who needs to know what to have a successful transfer?
How do we maintain open lines of communication between all the involved parties?
How does this all get managed?
It is important for all parties to be engaged in the technology-transfer process, and because technology transfer can mean different things to different people, one of the first steps in the process should be to establish a common understanding of terms and definitions between all the parties involved. Without a common understanding and/or language, the technical-transfer activity can become confusing, frustrating, and ultimately, unsuccessful.
Tech Transfer Pharmaceutical
The Pharmaceutical Research and Manufactures of America's Quality Technical Committee developed a good definition for technology transfer in 2003. They defined technology transfer as, "The body of knowledge available for a specific product and process, including critical-to-quality product attributes and process parameters, process capability, manufacturing and process control technologies, and quality systems infrastructure". The objective of the transfer is to impart knowledge that will allow for smooth, continuous manufacturing of the product regardless of its stage in the product lifecycle. This knowledge includes not only what works but also what hasn't worked.
Once a common understanding is established, the best way to ensure that you have a successful technology transfer is to maintain open lines of communication and develop a timeline that defines when crucial steps in the transfer will be performed. When any of the parties stop communicating or cease to share information, then the technology transfer will fail. It is important for all parties to maintain open communications through the technology-transfer activity.
Technology Transfer Examples
The following six technology transfer examples should be kept in mind as best practices:
Robust information exchange. Without a robust and transparent exchange of information the technology-transfer activity has the potential to be frustrating and delayed while people try to find a common understanding and locate necessary information crucial to the success of the activity.
Planning and project management. By having a good plan and project management tools, the technology transfer is more likely to be completed on time. Establishing realistic deadlines and scheduling the work to meet those deadlines will, again, contribute to a successful technology transfer experience.
Transfer of analytical assays. It is important to make sure all analytical methods are transferred and that the methods are validated. This helps ensure that the transfer was done correctly and that the site receiving the information can produce the product and analyze it without significant problems arising.
Small-scale verification at the receiving site. This activity helps keep the project on track. If the small-scale verification can be performed successfully, it is an indicator that the scale-up will go smoothly.
Pre-GMP engineering runs are desirable. These are not necessary but are desirable because they assure that the equipment being used is functioning properly.
GMP runs. This is the final step in the process validation and is necessary to confirm that the technology transfer was successful.
Technology Transfer Pharmaceutical
Many regulatory authorities reference the concepts of tech transfer in their respective regulatory frameworks. Volume 4 of the European Union's Guidelines for Good Manufacturing Practice for Medicinal Products for Human and Veterinary Use makes multiple references to technology transfer.
In section 1.2, it states that GMPs apply to technology-transfer activities. Chapter 4 of the EU guidelines requires:
"… written policies, procedures, protocols, reports and the associated records of actions taken or conclusions reached, where appropriate, for the following examples … Technology transfer …"
Chapter 6 of Volume 4 has a section devoted to the technology transfer of testing methods. The last section of EudraLex Volume 4 that deals with technology transfer is Chapter 7 on Outsourced Activities. This section clearly states that there needs to be written material around transfer.
FDA Contract Manufacturing
FDA has chosen to address the issue of tech transfer in their guidance titled Contract Manufacturing Arrangements for Drugs: Quality Agreements. This guidance states that:
"A comprehensive Quality Agreement will provide specific terms related to the particular product or products involved" and "the Quality Agreement should include product/component specifications; defined manufacturing operations, including batch numbering processes; responsibilities for expiration/retest dating, storage and shipment, and lot disposition; responsibilities for process validation, including design, qualification, and ongoing verification and monitoring…"
The bottom line is that to have successful transfer you need to have a common understanding and language, a way to manage the various steps and information that are crucial to the product, and you need to maintain open communications between all the parties involved in the process.
Article Details

Pharmaceutical Technology
Vol. 40, No. 4
Pages: 92–94
About RCA Pharmaceutical Services
Regulatory Compliance Associates (RCA)® has helped thousands of pharmaceutical companies meet regulatory, compliance, quality assurance, and remediation challenges. With more than 20 years of experience with FDA, Health Canada, EU and global regulatory agencies worldwide, RCA offers leading pharmaceutical consultants that can help you navigate through the challenges associated with evolving industry regulations.
Our team of over 500 seasoned FDA, Health Canada and EU compliance consultants and regulatory affairs experts can understand the complexities surrounding the pharmaceutical industry and the unique inner workings of the regulatory process. 
Client Solutions
Whether you're in the product planning, development or pharmaceutical lifecycle management stage or need a remediation strategy for a compliance crisis, RCA® Inc. will guide you through every step of the regulatory process and create a customized approach depending on your product and your pharma company's individual needs. Our clients include:
Companies new to FDA, Health Canada or EU regulations and the pharmaceutical industry
Start-up organizations with novel submissions to 510(k) submissions from multi-national corporations
Investment firms seeking private equity due diligence for pre-acquisition and post-deal research
Law firms seeking expertise in the remediation of warning letters, consent decrees, 483's or import bans
Regulatory affairs is Regulatory Compliance Associates® Inc.'s backbone and we fully understand the complexities of the pharmaceutical and biopharmaceutical industries. Our expertise spans all facets and levels of Regulatory Affairs, from Regulatory Support for New Products to Life Cycle Management, to other services like Outsourced Regulatory Affairs, Submissions, Training, and more.
As your partner, we can negotiate the potential assessment minefield of pharmaceuticals with insight, hindsight, and the clear advantage of our breadth and depth of knowledge and experience. We offer the following four regulatory affairs services for pharmaceutical companies.
New Product Support
Product Lifecycle
Other Regulatory Services
The regulations process surrounding pharmaceutical companies can be tricky for even the most experienced industry veteran to understand, and just one misstep could mean significant and lasting consequences for your business. At RCA® Inc., we offer the experience and resources necessary to guide you in quality compliance.
Assessments
Audits
Regulatory Agency Response
Preparation and Training
Inspection Readiness
Regulatory Compliance Associates® Inc.'s Quality Assurance services include assessments, strategy, implementations, staff augmentations, and identification of quality metrics to ensure continuous improvement, aligning with your business needs and goals. Our consultants are quality experts with experience spanning major corporations and start-ups. We know firsthand how to achieve, maintain, and improve quality, and we excel in transferring this knowledge to your organization.
21 CFR Part 11
Data Integrity
Manufacturing Support
Facility Support
Regulatory Compliance Associates® Inc. has significant experience and a proven approach to managing FDA Warning Letters, Consent Decrees, Remediation and other serious regulatory situations. We know how to partner with executive, legal, and communication teams, and will assist management with a response that will be accepted by the regulatory agency and be realistic to execute.
We can develop a comprehensive proof book of documented objective evidence demonstrating the corrective actions taken to remediate non-compliant issues. In addition, RCA can help prepare a comprehensive strategy to assist in your remediation efforts, drive continuous improvement, and maintain compliance with the regulations.
Regulatory Action
Warning Letter
483 Observation
Oversight Services
About RCA
Regulatory Compliance Associates® (RCA) provides regulatory compliance consulting to the following industries for resolution of compliance and regulatory challenges:
We understand the complexities of running a life science business and possess areas of expertise that include every facet of R&D, operations, regulatory affairs, quality, and manufacturing. We are used to working on the front lines and thriving in the scrutiny of FDA, Health Canada, MHRA and globally-regulated companies.
As your partners, we can negotiate the potential minefield of regulatory compliance and regulatory due diligence with insight, hindsight, and the clear advantage of our unique expertise and experience.
Founded in 2000
Headquartered in Wisconsin (USA)
Expertise backed by over 500 industry subject matter experts
Acquired by Sotera Health in 2021
About Sotera Health
The name Sotera Health was inspired by Soteria, the Greek goddess of safety, and reflects the Company's unwavering commitment to its mission, Safeguarding Global Health®.
Sotera Health Company, along with its three best-in-class businesses – Sterigenics®, Nordion® and Nelson Labs®, is a leading global provider of mission-critical end-to-end sterilization solutions and lab testing and advisory services for the healthcare industry. With a combined tenure across our businesses of nearly 200 years and our industry-recognized scientific and technological expertise, we help to ensure the safety of over 190 million patients and healthcare practitioners around the world every year.
We are a trusted partner to more than 5,800 customers in over 50 countries, including 40 of the top 50 medical device companies and 8 of the top 10 pharmaceutical companies.
To begin the Regulatory Compliance Associates® scoping process today, please enter your information in the blue form below and click the submit button at the bottom of the webpage.