Q: I am a quality control (QC) manager of a contract test laboratory. I am going to be upgrading the lab testing environment and would like to know if you have any advice on how I should approach this activity?
A: Upgrading the laboratory quality of a contract pharma manufacturer is an exciting activity. It needs to be approached with a thoughtful, well-constructed plan that does not interrupt the lab testing business needs of your clients.
Contract Laboratory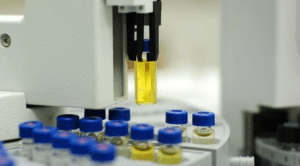 You mentioned that you are QC for the contract test laboratory quality, which would imply the products you test could include clinical trial material, final product dosage forms, and potentially, APIs. Regardless of the testing you are performing, the first step of this process should be to notify your clients of your intention to upgrade laboratory quality programs. 
Stability Testing
In addition, pharmaceutical contract manufacturing often includes performing final product release and stability testing. This is important because some clients may not wish you to perform their analyses on new equipment (e.g. API contract manufacturing). You will need to work with these clients closely to make sure you understand their concerns and that you address them before decommissioning any equipment used to analyze their materials.
Risk Assessment
The next process step for laboratory quality is to take inventory of the equipment you have. Start making some risk-based decisions on a project plan that will define what should be replaced, in what order, and what the requirements are for each. Regardless of which piece of contract labs equipment you decide to tackle first, there are several issues you must address with every replacement.
When contract drug manufacturing companies upgrade to a new piece of equipment to replace an aging piece (i.e., like for like), the requirements are straightforward. If you are replacing an existing technology with a significant upgrade or different technology, a more comprehensive approach will be necessary. In all cases, you will need to make sure the current equipment is performing adequately and is still capable of generating reliable results. 
Product Validation
For a simple like-for-like replacement, you should perform installation qualifications (IQ) and operational qualifications (OQ) on the new equipment.
The next step in the laboratory quality process would be to execute a performance qualification (PQ) and a comparison protocol. Any pharma contract manufacturing teams should be able to demonstrate the results obtained with new equipment are the same from both an efficacy and quality perspective.
In many cases, the PQ and comparison may be combined into one document. If the results from the protocol match up, you can decommission the old contract lab testing equipment and start using the new equipment. 
Manufacturing Operations
When changing from one laboratory quality technology to a different, more sensitive technology, there are more decisions to be considered. You need to work closely with your client on the lab testing specifics of their product so you can perform the transition with minimal disruption to their and your product flow.
These more complex upgrades require a lot of upfront planning. As with the like-for-like replacement, you need to make sure the current contract laboratory equipment is operating appropriately.
Comparison Protocol
As before, you need to perform the IQ and PQ on the new equipment. It is in the PQ and comparison protocol where attention to detail will be crucial to execution. For instance, when changing from high-performance liquid chromatography (HPLC) to the more sensitive ultra-high pressure liquid chromatography (UHPLC), you need to be prepared to address the possibility that you could see some unknown peaks during the analysis.
These contract testing peaks need to be identified and characterized before you can continue with the transfer. While this investigation is underway, you need to determine the suitability of the contract pharma product for release. This includes understanding the potential impact the peaks might have on stability of the item being analyzed.
Compendial Method
If the method being converted is a US Pharmacopeial Convention (USP) method, you need to be sure that the new methodology generates results that are equivalent or better than the results obtained using the compendial method. The comparability protocol details will help you address the unforeseen circumstances should they occur during the execution of the overall laboratory quality protocol.
The issues arising from the conversion of one method to a more sensitive method need to be fully addressed and explained before decommissioning the obsolete equipment.
Product Stability
There may be situations where you will need to maintain both the new and the old lab testing equipment operational at the same time. For instance, you may want to continue to monitor the stability of a product on the equipment the analysis was started on and not change to the new equipment until the last stability time point has been analyzed.
In this case, you will want to maintain the old equipment while utilizing the new equipment for release and future stability monitoring. These situations need to be discussed with your client and included in the laboratory timeline for transitioning the laboratory.
GMP Training 
Another important element of transitioning a contract test laboratory is making sure your analysts are properly trained on the new equipment while maintaining expertise on the old equipment until the transition is complete. Many companies selling analytical equipment have experts to perform the necessary training and to help address issues that may come up as the analysts become more familiar with the equipment.
It is important for the laboratory and your clients that analysts are properly trained so they can deal more effectively with problems that occur during the transition period. The more training and familiarity the analysts have in running the new equipment, the less disruption there will be to operations.
Clinical Labs
When introducing new contract laboratory equipment and new methodologies, it is important to have a comprehensive implementation plan that discusses what equipment you will introduce. The lab testing timeline for the introduction of the equipment and how you will investigate unexpected analytical results are important during the transition. Additionally, how you will make sure your analysts are appropriately trained is essential to cause minimal interruptions to operations.
Putting your contract laboratory plan down in writing and discussing it with your clients up front will save you a lot of time and minimize delays as you implement your plan.
Article Details

Pharmaceutical Technology
Vol. 41, No. 6
Pages: 74-73
Regulatory Compliance Associates (RCA)® has helped thousands of pharmaceutical companies meet regulatory, compliance, quality assurance, and remediation challenges. With more than 20 years of experience with FDA, Health Canada, EU and global regulatory agencies worldwide, RCA offers leading pharmaceutical consultants that can help you navigate through the challenges associated with evolving industry regulations.
Our team of over 500 seasoned FDA, Health Canada and EU compliance consultants and regulatory affairs experts can understand the complexities surrounding the pharmaceutical industry and the unique inner workings of the regulatory process. 
Client Solutions
Whether you're in the product planning, development or pharmaceutical lifecycle management stage or need a remediation strategy for a compliance crisis, RCA® Inc. will guide you through every step of the regulatory process and create a customized approach depending on your product and your pharma company's individual needs. Our clients include:
Companies new to FDA, Health Canada or EU regulations and the pharmaceutical industry
Start-up organizations with novel submissions to 510(k) submissions from multi-national corporations
Investment firms seeking private equity due diligence for pre-acquisition and post-deal research
Law firms seeking expertise in the remediation of warning letters, consent decrees, 483's or import bans
Regulatory affairs is Regulatory Compliance Associates® Inc.'s backbone and we fully understand the complexities of the pharmaceutical and biopharmaceutical industries. Our expertise spans all facets and levels of Regulatory Affairs, from Regulatory Support for New Products to Life Cycle Management, to other services like Outsourced Regulatory Affairs, Submissions, Training, and more.
As your partner, we can negotiate the potential assessment minefield of pharmaceuticals with insight, hindsight, and the clear advantage of our breadth and depth of knowledge and experience. We offer the following four regulatory affairs services for pharmaceutical companies.
New Product Support
Product Lifecycle
Other Regulatory Services
The regulations process surrounding pharmaceutical companies can be tricky for even the most experienced industry veteran to understand, and just one misstep could mean significant and lasting consequences for your business. At RCA® Inc., we offer the experience and resources necessary to guide you in quality compliance.
Assessments
Audits
Regulatory Agency Response
Preparation and Training
Inspection Readiness
Regulatory Compliance Associates® Inc.'s Quality Assurance services include assessments, strategy, implementations, staff augmentations, and identification of quality metrics to ensure continuous improvement, aligning with your business needs and goals. Our consultants are quality experts with experience spanning major corporations and start-ups. We know firsthand how to achieve, maintain, and improve quality, and we excel in transferring this knowledge to your organization.
21 CFR Part 11
Data Integrity
Manufacturing Support
Facility Support
Regulatory Compliance Associates® Inc. has significant experience and a proven approach to managing FDA Warning Letters, Consent Decrees, Remediation and other serious regulatory situations. We know how to partner with executive, legal, and communication teams, and will assist management with a response that will be accepted by the regulatory agency and be realistic to execute.
We can develop a comprehensive proof book of documented objective evidence demonstrating the corrective actions taken to remediate non-compliant issues. In addition, RCA can help prepare a comprehensive strategy to assist in your remediation efforts, drive continuous improvement, and maintain compliance with the regulations.
Regulatory Action
Warning Letter
483 Observation
Oversight Services
About RCA
Regulatory Compliance Associates® (RCA) provides regulatory compliance consulting to the following industries for resolution of compliance and regulatory challenges:
We understand the complexities of running a life science business and possess areas of expertise that include every facet of R&D, operations, regulatory affairs, quality, and manufacturing. We are used to working on the front lines and thriving in the scrutiny of FDA, Health Canada, MHRA and globally-regulated companies.
As your partners, we can negotiate the potential minefield of regulatory compliance and regulatory due diligence with insight, hindsight, and the clear advantage of our unique expertise and experience.
Founded in 2000
Headquartered in Wisconsin (USA)
Expertise backed by over 500 industry subject matter experts
Acquired by Sotera Health in 2021
About Sotera Health
The name Sotera Health was inspired by Soteria, the Greek goddess of safety, and reflects the Company's unwavering commitment to its mission, Safeguarding Global Health®.
Sotera Health Company, along with its three best-in-class businesses – Sterigenics®, Nordion® and Nelson Labs®, is a leading global provider of mission-critical end-to-end sterilization solutions and lab testing and advisory services for the healthcare industry. With a combined tenure across our businesses of nearly 200 years and our industry-recognized scientific and technological expertise, we help to ensure the safety of over 190 million patients and healthcare practitioners around the world every year.
We are a trusted partner to more than 5,800 customers in over 50 countries, including 40 of the top 50 medical device companies and 8 of the top 10 pharmaceutical companies.
To begin the Regulatory Compliance Associates® scoping process today, please enter your information in the blue form below and click the submit button at the bottom of the webpage.