The internal audit function of life science companies is one cornerstone of an effective and efficient quality management system. There are several types of audits that comprise a robust internal control program including supplier audits, internal audits, and regulatory audits.
Compliance audit documents to be reviewed include the quality manual, list of standard operating procedures, open deviations, and corrective and preventive actions. Any additional supporting evidence an ISO audit team may choose to review will help the certified auditor team assess and decide the final facility compliance status.
Forensic Audit
Preparing for a forensic audit or regulatory audit typically consists of the regulatory inspector providing the facility being audit agenda. This listing would include any areas of the audit mentioned in a FDA 483 and audit trail documents. The audit report will focus on life science departments to be inspected. This can include incoming raw materials, quality control, chemistry and microbiology laboratories and manufacturing. 
IT Audit
Conducting an IT audit is also critical in times like these of high cybersecurity concerns. Internal audits are performed by the company as a self-assessment for the purpose of identifying areas/issues that might affect their IT compliance status. This specific audit committee may include employees from across the company to intentionally examine IT process and quality from a cross-functional perspective. 
Audit Committees
Preparing for an internal audit requires the same discipline as preparing for supplier and regulatory audits. This includes audit committees and the number of employees involved in the process. During the COVID-19 pandemic, many companies reduced the number of employees allowed at an audit site. Many of the other audit committee who helped conduct the audit were allowed to work remotely. It is important to consider where employees are globally and the role they each play during an internal audit. 
Internal audits are part of management team responsibilities. Conducting an internal audit is different from the other audit types, whether it is pre-, during, or post-pandemic. If designed and implemented appropriately, there is great value in the internal audit. It allows the company to find vulnerabilities in their systems and remediate before they are discovered by an external auditor.
Audit Procedures
Internal audits can provide valuable information that can be used to prevent issues before they become compliance concerns. Audit procedures often help develop a remediation plan to take action to mitigate compliance problems. Having corrective actions in place before others identify the issue may lessen the impact of the observation. Most importantly, show there is a process in place for continuous improvement. In addition, the internal audit can be used for training staff and communicating valuable information to the organization.
Audit Schedule
The ideal tone for an internal audit should be a collaborative team-oriented activity that is instructive, informative, open, honest, and inclusive. There are several factors that help contribute to establishing this tone. The most successful is hiring a certified information system auditor to help guide the process. 
Another way to set the proper tone is to publish the audit schedule or agenda in advance. This makes sure the functional areas personnel are informed of the time schedule. During a pandemic, the agenda takes on another level of importance because it ensures the proper documents are ready to go. Teams should upload all data either before or during the audit. Prior planning precludes poor performance in this area.
Audit Office
Each of these specific audits requires preparation to make sure the forensic audit is productive and accomplishes its intended purpose. In the manufacturing world, the goal of the audit office is to ensure facilities are manufacturing fit-for-use products in full adherence. This includes meeting current good manufacturing practice (CGMP) requirements.
Audit Trail
Supplier audits are performed to confirm the audit trail of raw materials, packaging, labeling components, etc.. An effective audit trail should provide documentation of a continuous, uninterrupted supply of materials that are compliant with CGMPs. Regulatory authorities perform inspections to determine if the manufacturing company is providing materials that comply to CGMPs.
Audit Risk
An operations audit conducted requires documents be shared electronically to the auditor using secure electronic systems. This electronic exchange helps reduce audit risk by increasing the efficiency between independent auditor and a facility being audited. The quality audit documentation can be reviewed by the auditor, and questions can be communicated to the audit manager via email, conference calls or virtual technology. While this may not be ideal, because it eliminates the audit planning in-person interaction, it is still an effective way to conduct a system audit.
Facility Audit Tour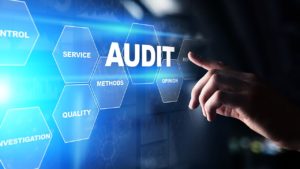 Touring the facility is challenging when a virtual audit or external audit is conducted. These challenges can be overcome with some flexibility and ingenuity. Live video feed could be streamed to the auditor while the company's audit manager and/or subject matter experts are available. This can help answer questions that might arise during the live videoconference.
Audit Video Recording
Additionally, the operational audit could be recorded, and that recording could be provided to the auditor. The understanding would include the audit manager being available to answer any questions upon the review of the video. The recorded version of the tour has both positives and negatives. For example, a certified auditor needs to see things in as real time as much as possible. However, it does allow for the auditor to pause and go back to review audit control processes in more detail if warranted.
Audit Issues
The auditors should work with the functional area and talk with as many employees as possible to identify the issues of concern. Individuals who are responsible for performing the day-to-day activities often have the best insight. Questions would include what is currently working and what needs to be improved.
Excluding them from participating in the audit process might result in overlooking a serious issue. As a result, this could come up or inadvertently lead the auditor to think the site is hiding something. To be able to get the most valuable information about the potential compliance issues facing the organization, internal audits should not be judgmental or antagonistic. 
Audit Questions
Auditors should be direct and avoid asking questions designed to intentionally stump people. Another important behavior is the ability of the auditor to listen to the answers and refrain from judging. The exact same behavior defined for the auditor should also be the behavior displayed by the auditees.
Auditees should be direct and avoid deflecting or obfuscating answers. They should take the time to explain why they do things the way they do them. Performance audit answers should be proactive, point out things of concern and seek advice on how to remediate them. Both parties need to remember they are not enemies, rather they are the partners in improving the organization.
Conclusion
Conducting these types of each technical audit presents a multitude of challenges. Today's audit risk model has allowed the life science industry to creatively utilize technology-based applications to communicate and perform an effective system audit. The documentation and supporting evidence review can be conducted remotely, and confidentiality can be maintained. After reviewing the documentation and supporting evidence, the auditor can request interviews with various personnel.
Integrated audit interviews can then be scheduled via Zoom or online video conferencing. With appropriate planning and the proper use of technology, remote auditing can have the same audit quality as in-person auditing. 

BioPharm International
Vol. 34, No. 2
Pages: 44-45
About RCA
Regulatory Compliance Associates® (RCA) provides healthcare consulting services to the following industries for resolution of compliance and regulatory challenges:
We understand the complexities of running a life science business and possess areas of expertise that include every facet of R&D, operations, regulatory affairs, quality, and manufacturing. We are used to working on the front lines and thriving in the scrutiny of FDA, Health Canada, MHRA and globally-regulated companies.
As your partners, we can negotiate the potential minefield of regulatory compliance and regulatory due diligence with insight, hindsight, and the clear advantage of our unique expertise and experience.
Founded in 2000
Headquartered in Wisconsin (USA)
Expertise backed by over 500 industry subject matter experts
Acquired by Sotera Health in 2021
About Sotera Health
The name Sotera Health was inspired by Soteria, the Greek goddess of safety, and reflects the Company's unwavering commitment to its mission, Safeguarding Global Health®.
Sotera Health Company, along with its three best-in-class businesses – Sterigenics®, Nordion® and Nelson Labs®, is a leading global provider of mission-critical end-to-end sterilization solutions and lab testing and advisory services for the healthcare industry. With a combined tenure across our businesses of nearly 200 years and our industry-recognized scientific and technological expertise, we help to ensure the safety of over 190 million patients and healthcare practitioners around the world every year.
We are a trusted partner to more than 5,800 customers in over 50 countries, including 40 of the top 50 medical device companies and 8 of the top 10 pharmaceutical companies.
To begin the RCA® scoping process today, please enter your information in the blue form below and click the submit button at the bottom of the webpage.