Since the Pandemic became global in 2020, the FDA has been requesting documents from firms in advance of or in lieu of an inspection. This authority comes from the Federal Food, Drug, and Cosmetic Act (FD&C Act) in Section 704(a)(4). However, while they have not adopted doing FDA remote inspections in place of an onsite inspection, they have stated publicly they are considering the possibility and virtual audits have become very common. 
FDA is still conducting onsite inspections and has submitted for new employee headcount in 2022 to reduce the existing backlog. Each inspection is carefully considered on a case-by-case basis where there is an imminent public health need. Factors such as risk to the FDA investigator and site personnel are also considered when determining if a virtual audit is appropriate.
Onsite inspections could be the standard inspection with the investigators staying in the facility the entire time or it could be a hybrid approach where the investigators spend some time in the facility and other time doing remote FDA reviews and conducting video interviews.
2022 will bring a new wave of inspections to the medical device and pharmaceutical industry. So how can you prepare in advance? And what does good look like from a virtual inspection process? Below are some thoughts for your team to consider.
---
Ready to Conduct a Mock Virtual Audit? Contact Us Now →
---
How Would a Virtual Inspection Work?
Virtual health authority inspection is accelerating as the Pandemic continues. FDA registrations simply don't end and some health authorities outside the US have already done remote inspections already (e.g. the EMA). However, while the FDA has not done a true remote inspection, they have done many hybrid inspections.
What does the hybrid approach mean?
It is part of onsite work and part offsite/remote work. With the hybrid FDA format, the FDA uses tools like video chat for activities like virtual interviews. They also use technology like secure shared online folders for offsite document review. Companies prepared to manage FDA inspections under this new method stand the best chance of success in an inspection.
The FDA could start with a records request and then come onsite, or vice versa. Remember, if it is a true inspection the FDA must provide the most senior ranking person at the site a Notice of Inspection, Form FDA 482, at the very start of the inspection. If the Form 482 isn't issued, then it is likely a records request utilizing their Section 704(a)(4) authorities.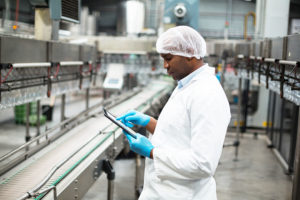 FDA record requests should follow the process and guidance outlined in their internal Staff Manual Guide, SMG 9004.1 Policy and Procedures for Requesting Records In Advance of or In Lieu of a Drug Inspection. Think of the SMG as an internal procedure for the FDA. If you are curious you can find it at this link: Staff Manual Guide 9004.1 (fda.gov)
Bottom line, if the FDA's request comes through a call or email then it is not an inspection. It is a records request and should follow the procedures in SMG 9004.1. If they show up onsite, present a Form 482, then it is an inspection. Then the inspection could stay all onsite or it could be a hybrid approach, as noted above.  
Planning for an FDA Virtual Inspection
With the current pandemic, FDA has been providing a little advanced notice of the inspection, usually a few days to a week. The notice is directed less at giving companies time to prepare and instead intended to ensure the required personnel, who may be working offsite, are available. But prior planning precludes poor performance, so prepare well beforehand to manage a hybrid virtual inspection.
Some recommendations for inspection prep and readiness are as follows:
Determine who in the company will host the FDA inspection. Whether it's onsite or virtual or hybrid you'll want to designate a host. This distinction lets you train someone for the role, which helps streamline the process and eliminates last-minute challenges
Who will be the scribe and how will they take notes and communicate with the site team?
Determine who will step in as the back-up host and scribe in case the primaries are out sick.
Think through how the FDA inspection will flow, from the time it starts, through the facility tour, document requests and employee interviews.
If a virtual walk-through is conducted do you have sufficient Wi-Fi capabilities across the entire facility to avoid glitches in the audit and video.
How will you do the video? Use a phone camera or a real video camera.
Make sure you have the equipment ready to go and have tested it throughout the site.
How do you plan to maintain appropriate social distancing? Some companies have set up conference rooms complete with plexiglass barriers, tape markers on the floor and separated seating. In other cases, some activities are conducted outdoors, weather permitting.
Some additional helpful tips based on our experience with other clients are:
Collecting documents: This one can take a little time and it's suggested that you start with the basics that you know the investigator will request, for example, a general site presentation, a batch record, deviation list, complaint list, facility layout, CAPA list, compliance documents, change controls and other master files.
Scanning and saving: Scan these documents ahead of time and upload them to an online company drive that is easily accessed by the inspection team.
Getting the right equipment: Whether you plan to use a smartphone or Wi-Fi camera, make sure the user knows how to operate it correctly and it works in every nook and cranny of your facility.
Running simulated inspections: A walkthrough lets you test video and audio quality. You can also identify and address poor Wi-Fi connectivity.
Virtual and hybrid inspections are a new format, and there can be challenges on both sides. Make sure your plan has some flexibility. Also, keep an eye on the FDA's website for any announcements on virtual inspections. If the FDA does decide to start conducting virtual inspections it is likely that they will also roll out internal processes and procedures to ensure a harmonized approach. These items could be a Staff Manual Guide or a new chapter in their Investigations Operations Manual (Investigations Operations Manual | FDA).
About RCA
Regulatory Compliance Associates (RCA)® has helped thousands of pharmaceutical companies meet regulatory, compliance, quality assurance, and remediation challenges. With more than 20 years of experience with FDA, Health Canada, EU and global regulatory agencies worldwide, RCA offers leading pharmaceutical consultants that can help you navigate through the challenges associated with evolving industry regulations.
Our team of over 500 seasoned FDA, Health Canada and EU compliance consultants and regulatory affairs experts can understand the complexities surrounding the pharmaceutical industry and the unique inner workings of the regulatory process. 
Client Solutions
Whether you're in the product planning, development or pharmaceutical lifecycle management stage or need a remediation strategy for a compliance crisis, RCA® Inc. will guide you through every step of the regulatory process and create a customized approach depending on your product and your pharma company's individual needs. Our clients include:
Companies new to FDA, Health Canada or EU regulations and the pharmaceutical industry
Start-up organizations with novel submissions to 510(k) submissions from multi-national corporations
Investment firms seeking private equity due diligence for pre-acquisition and post-deal research
Law firms seeking expertise in the remediation of warning letters, consent decrees, 483's or import bans
Regulatory affairs is Regulatory Compliance Associates® Inc.'s backbone and we fully understand the complexities of the pharmaceutical and biopharmaceutical industries. Our expertise spans all facets and levels of Regulatory Affairs, from Regulatory Support for New Products to Life Cycle Management, to other services like Outsourced Regulatory Affairs, Submissions, Training, and more.
As your partner, we can negotiate the potential assessment minefield of pharmaceuticals with insight, hindsight, and the clear advantage of our breadth and depth of knowledge and experience. We offer the following four regulatory affairs services for pharmaceutical companies.
New Product Support
Product Lifecycle
Other Regulatory Services
The regulations process surrounding pharmaceutical companies can be tricky for even the most experienced industry veteran to understand, and just one misstep could mean significant and lasting consequences for your business. At RCA® Inc., we offer the experience and resources necessary to guide you in quality compliance.
Assessments
Audits
Regulatory Agency Response
Preparation and Training
Inspection Readiness
Regulatory Compliance Associates® Inc.'s Quality Assurance services include assessments, strategy, implementations, staff augmentations, and identification of quality metrics to ensure continuous improvement, aligning with your business needs and goals. Our consultants are quality experts with experience spanning major corporations and start-ups. We know firsthand how to achieve, maintain, and improve quality, and we excel in transferring this knowledge to your organization.
21 CFR Part 11
Data Integrity
Manufacturing Support
Facility Support
Regulatory Compliance Associates® Inc. has significant experience and a proven approach to managing FDA Warning Letters, Consent Decrees, Remediation and other serious regulatory situations. We know how to partner with executive, legal, and communication teams, and will assist management with a response that will be accepted by the regulatory agency and be realistic to execute. We can develop a comprehensive proof book of documented objective evidence demonstrating the corrective actions taken to remediate non-compliant issues. In addition, RCA can help prepare a comprehensive strategy to assist in your remediation efforts, drive continuous improvement, and maintain compliance with the regulations.
Regulatory Action
Warning Letter
483 Observation
Oversight Services
About RCA®
Regulatory Compliance Associates® (RCA) provides healthcare consulting services to the following industries for resolution of compliance and regulatory challenges:
We understand the complexities of running a life science business and possess areas of expertise that include every facet of R&D, operations, regulatory affairs, quality, and manufacturing. Our life science consultants are used to working on the front lines and thriving in the scrutiny of FDA, Health Canada, MHRA and globally-regulated companies.
As your partners, we can negotiate the potential minefield of regulatory compliance and regulatory due diligence with insight, hindsight, and the clear advantage of our unique expertise and experience.
Founded in 2000
Expertise backed by over 500 industry subject matter experts
Acquired by Sotera Health in 2021
About Sotera Health®
The name Sotera Health® was inspired by Soteria, the Greek goddess of safety, and reflects the Company's unwavering commitment to its mission, Safeguarding Global Health®.
Sotera Health Company, along with its three best-in-class businesses – Sterigenics®, Nordion® and Nelson Labs®, is a leading global provider of mission-critical end-to-end sterilization solutions and lab testing and advisory services for the healthcare industry. With a combined tenure across our businesses of nearly 200 years and our industry-recognized scientific and technological expertise, we help to ensure the safety of over 190 million patients and healthcare practitioners around the world every year.
We are a trusted partner to more than 5,800 customers in over 50 countries, including 40 of the top 50 medical device companies and 8 of the top 10 pharmaceutical companies.
To begin the Regulatory Compliance Associates® scoping process today, please enter your information in the blue form below and click the submit button at the bottom of the webpage.