The application date of May 26, 2022, for the EU In-Vitro Diagnostic Medical Devices Regulation (2017/746) (IVDR) has created a huge challenge for IVD medical device firms planning to introduce or continue to market their IVD products to any of the European Union Member States. 
One of the biggest changes from IVDD to IVDR is the move from list-based IVD device classifications to a rule-based IVD medical device classification resulting in 4 new device classes: class A (lowest risk) to class D (highest risk), where class B, C, and D would require Notified Body involvement.
---
Need help with your transition to the EU IVDR? Contact Us Now →
---
"The combination of major changes to the IVDR device classification resulting in 3-fold increase in IVD medical devices requiring notified body involvement and lack of adequate IVDR designated notified bodies has created a huge bottle neck to getting ready for the EU IVDR by the application date of the EU IVDR." says Seyed Khorashahi, Executive Vice President of Medical Device and CTO of Regulatory Compliance Associates Inc.® ("RCA").
This change alone would result in a huge number of medical devices requiring Notified Body involvement. It is estimated this quantity of medical device products will increase from 20% under MDD to approximately 80% under IVDR.  As of this writing, there are only 4 IVDR designated Notified Bodies, which visibly increases the number of goods our clients must submit. 
 "Right now, we're partnering with global clients that have both a small and sizable product portfolio of In-Vitro Diagnostic Devices, and they are at different stages in their IVDR implementation efforts," says Lisa Michels, General Counsel for Regulatory Compliance Associates® Inc. (RCA). "Proactive strategic planning and effective resource allocation are critical for the timely execution and implementation of a comprehensive IVDR Implementation Plan. IVDR manufacturers must consider and prepare for potential delays such as scheduling bottlenecks for Notified Body Conformity Assessment activities, which may directly or indirectly impact their planned commercialization efforts for existing and/or new IVDR products. It is necessary for IVDR manufacturers to establish contingency plans to mitigate some of these potential challenges in this new regulatory environment under the EU IVDR since all IVDR manufacturers are facing the same task."
Additional nuances from IVDD to IVDR are based on a medical device lifecycle approach and include:
The transition from IVDD to IVDR can be a time-consuming process, and many companies are still in the process of regulatory transition. 
"It's time-sensitive because our clients are learning how to deal with their current notified body, and if they are still the correct partner to work with" continued Khorashahi. "We initially start with a strategic approach to plan their regulatory strategy of current IVD medical devices in the field and their IVDD certificate expiration date to prioritize the products that need immediate attention. "Each of the IVD medical devices has to be reclassified according to the new IVDR device classification rules."
If you are a small to medium size company and have not already started your transition, now may be the opportune time to engage with a strategic partner like RCA to prepare for the IVDR deadline.
"Timely compliance to the IVDR requires a dedicated team of subject matter experts to properly implement and execute the compliance deliverables as laid out in your IVDR Implementation Plan" continued Michels. "These deliverables may require extensive updates to a manufacturer's existing Quality Management System (QMS), technical documentation, and/or establishing or enhancing a manufacturer's body of objective evidence of clinical performance validation with a defined blueprint to address the product lifecycle."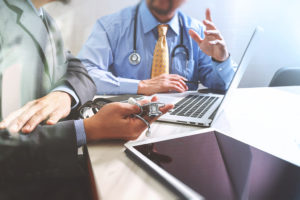 Your organization has a better chance of a successful transition by engaging subject matter experts like RCA who have an intimate familiarity with the planning and implementation of IVDR.
"Our experts can help you identify the intended purpose and the inherent risks associate with your devices, determine the device classification, and help create technical documentation in compliance with IVD regulation 2017/746.:es" Khorashahi divulges.
More robust procedures for post-market surveillance and post-market performance follow up must be put in place to successfully transition.
"RCA has the subject matter expertise, experience, and dedicated resources available to assist our clients with the seemingly daunting task of ensuring timely IVDR compliance prior to the fast-approaching deadline. Our proven capability is what clients find to be of most value in the selection and utilization of a regulatory compliance consulting firm like RCA." replied Michels.
Partner With RCA to Successfully Make the Transition from IVDD to IVDR
At Regulatory Compliance Associates® Inc. (RCA), we have subject matter experts who start with a gap analysis of the quality system and the technical documentation per IVDR requirements to identify the compliance gaps and develop an execution plan to help you become IVDR compliant. 
We can help with your device classification according to the classification rules, update of your quality system to address and remediate any gaps. Including but not limited to:
Post-Market Surveillance (PMS)
Performance Evaluation
Post-Market Performance Follow-Up (PMPF). 
We can also help you with your technical documentation for the PMS Plan, PMS Report, PMPF Plan, PMPF Report, or help you remediate any other technical documentation gap(s).
Get prepare with tailored compliance assurance services. If you want assistance getting your company ready, contact our team today.