Regulatory compliance remains critical even during a global pandemic. While audits are not being conducted in the same way they were a year ago, they continue to take place. New procedures adopted to deal with the coronavirus outbreak may have the unintended consequence of creating compliance gaps. An audit will identify these gaps so that you can address the issue.
Understanding how the audit process has changed and what you may need to do differently can help your company navigate this difficult period more smoothly. Learn more below about conducting an audit remotely during COVID-19.
Internal Control: What Processes Will Change?
Advance planning and proactive execution of your plan will put your company on track to conduct and complete internal, supplier and due diligence audits. Many of the processes you're used to will change. Here's how to prepare.
Auditboard: Did you Complete Advance Work?
You can complete some tasks off-site and in advance, such as reviewing standard operating procedures and the auditboard. You can also conduct teleconferences in advance to discuss any questions that will come up, or email ahead of time to find answers.
Certified Internal Auditor: Did you Hire an Expert?
Apply social distancing to the audit process by using video to substitute for certified internal auditor in-person visits when you can. Live streaming allows the certified internal auditor to view a facility instead of going there and possibly introducing new germs into the environment. Whenever possible, avoid walking around your employees during this process.
Acknowledge that the situation is not ideal. Giving auditors firsthand experience in your plant is preferable, but for the time being, it's not always practical. Discuss what will happen to the tapes after the audit is over too so that your management team stays on the same page regarding disposal or preservation.
Audit Office: Are you Prepared for Virtual Interviews?
Interviews play a critical role in the audit process, and they will continue to serve auditors' interests. Migrate audit office interviews to a virtual platform, and use teleconferencing apps to schedule and conduct them.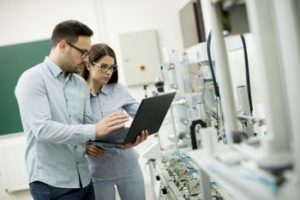 Audit Report: Increase the Transparency
The world has changed in a very short time due to the pandemic. This has led companies like yours to adopt new policies to curb the potential spread of COVID-19 or other infectious conditions. An audit offers the perfect opportunity to reexamine the audit repot and increasing the transparency of results. More departments and individuals should receive leeway to report deviations they see in the production process. Clarify your expectations for reporting in all aspects of production, including:
Manufacturing operations
Quality control
Compliance assurance
Supplier quality
Internal Control: Are you Building Trust?
Building trust with employees within a new internal control structure will put you on the path toward solving any audit issues uncovered. The goal of giving the public a reliable supply of needed products will become an achievable aim as a result. Continuing the audit process and running it smoothly is critical to public health. Companies must continue to uphold the supply chain for essential resources so that people receive the provisions they need during this difficult time.
About RCA®
Regulatory Compliance Associates® (RCA) provides healthcare consulting services to the following industries for resolution of compliance and regulatory challenges:
We understand the complexities of running a life science business and possess areas of expertise that include every facet of R&D, operations, regulatory affairs, quality, and manufacturing. Our life science consultants are used to working on the front lines and thriving in the scrutiny of FDA, Health Canada, MHRA and globally-regulated companies.
As your partners, we can negotiate the potential minefield of regulatory compliance and regulatory due diligence with insight, hindsight, and the clear advantage of our unique expertise and experience.
Founded in 2000
Expertise backed by over 500 industry subject matter experts
Acquired by Sotera Health in 2021
About Sotera Health®
The name Sotera Health® was inspired by Soteria, the Greek goddess of safety, and reflects the Company's unwavering commitment to its mission, Safeguarding Global Health®.
Sotera Health Company, along with its three best-in-class businesses – Sterigenics®, Nordion® and Nelson Labs®, is a leading global provider of mission-critical end-to-end sterilization solutions and lab testing and advisory services for the healthcare industry. With a combined tenure across our businesses of nearly 200 years and our industry-recognized scientific and technological expertise, we help to ensure the safety of over 190 million patients and healthcare practitioners around the world every year.
We are a trusted partner to more than 5,800 customers in over 50 countries, including 40 of the top 50 medical device companies and 8 of the top 10 pharmaceutical companies.
To begin the Regulatory Compliance Associates® scoping process today, please enter your information in the blue form below and click the submit button at the bottom of the webpage.