The Sterilization Road Map to Authorization in the EU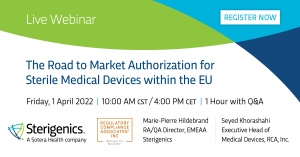 Sterile Medical Devices must follow the regulations and standards for CE marking that went into effect May 2021. Medical devices being sold in Europe require a CE mark, even if the product is imported from outside the Economic European Area (EEA). CE marking certifies that a medical device complies with regulatory requirements under European Regulation (MDR 2017/745 and IVDR 2017/746). Upon receipt of the certification / CE mark the product can be freely marked, sold, and marketed anywhere in the Economic European Area (EEA).
​In this webinar, the strategic process of obtaining a CE mark, the defined product use and classification, as well as sterilization conformity assessment will be covered. Additionally, the interaction and experiences with contract sterilizers regarding MDR will be reviewed, including key validation information required for obtaining a CE mark for a sterile product.
Medical device manufacturers developing new products or improving the design, or packaging of new or existing products are invited to register for this free webinar to gain a greater understanding of the:
The process to obtain a CE mark and certification under updated EU and ISO regulations.
Ensure compliance with regulations and product/process safety.
Understand the interactions with a contract sterilizer, for the validation process and submission requirements to obtain a CE mark for a sterile medical device.
About the Speakers
Marie-Pierre Hildebrand, RA/QA Director, EMEAA, Sterigenics.
After completing her master's in Industrial Pharmacy, Marie-Pierre started her carrier as a Process Supervisor in the production of vaccines and then move to a role as a Clinical Trial Manager. After a couple of years in the Operations part of the business, she continued her education with a master's in Management in order to take a role in Business Development. Marie-Pierre started at Sterigenics 7 years ago as the Responsible Site QA for an EO facility as well as executing the role of Qualified Person per EU regulations for pharmaceutical products. Marie-Pierre assumed the role of RA/QA Director for EMEAA 3 years ago and ensures the QA oversight of 11 EMEAA facilities for both RADIATION and GAS technologies. Marie-Pierre is also a Pharmaceutical Quality Systems Auditor. Marie's Expertise includes Deep knowledge in both EU regulatory requirements as well as global sterilization requirements. She is listed as an EU-registered Qualified Person and Lead GMP and ISO 13485 auditor.
Seyed Khorashahi, Executive Head of Medical Devices, Regulatory Compliance Associates.
Seyed Khorashahi has more than 25 years experience leading R&D teams in all aspects of developing safety-critical medical devices. He has held leadership positions at Covidien (Medtronic), Baxter, and Beckman Coulter Inc., and has an extensive background in medical device product development, quality systems, regulatory affairs, and mergers and acquisitions. Other core competencies include engineering and business strategy. Seyed has significant domain expertise in U.S. Food and Drug Administration (FDA) and EU standards, as well as in software systems and hardware development for medical devices. In addition, Seyed is adept at using strong analytical and technical skills to lead teams in solving sterilization problems and fulfilling the voice of the customer. He has a proven track record of efficiently deploying process improvements with extensive knowledge of 21 CFR 820 and ISO 13485.
About RCA
Regulatory Compliance Associates® (RCA) provides regulatory compliance consulting to the following industries for resolution of life science challenges:
We understand the complexities of running a life science business and possess areas of expertise that include every facet of R&D, operations, regulatory affairs, quality, and manufacturing. We are used to working on the front lines and thriving in the scrutiny of FDA, Health Canada, MHRA and globally-regulated companies.
As your partners, we can negotiate the potential minefield of regulatory compliance and regulatory due diligence with insight, hindsight, and the clear advantage of our unique expertise and experience.
Founded in 2000
Headquartered in Wisconsin (USA)
Expertise backed by over 500 industry subject matter experts
Acquired by Sotera Health in 2021
About Sotera Health
The name Sotera Health was inspired by Soteria, the Greek goddess of safety, and reflects the Company's unwavering commitment to its mission, Safeguarding Global Health®.
Sotera Health Company, along with its three best-in-class businesses – Sterigenics®, Nordion® and Nelson Labs®, is a leading global provider of mission-critical end-to-end sterilization solutions and lab testing and advisory services for the healthcare industry. With a combined tenure across our businesses of nearly 200 years and our industry-recognized scientific and technological expertise, we help to ensure the safety of over 190 million patients and healthcare practitioners around the world every year.
We are a trusted partner to more than 5,800 customers in over 50 countries, including 40 of the top 50 medical device companies and 8 of the top 10 pharmaceutical companies.
To begin the Regulatory Compliance Associates® scoping process today, please enter your information in the blue form below and click the submit button at the bottom of the webpage.