The U.S. Food and Drug Administration (FDA) recently published (June 2021) four new guidance documents to help accelerate supply chain security and new product tracing requirements in the pharmaceutical industry. While most countries have implemented firmer regulations over the last decade, this new guidance is timely in the United States as industry executives have been encouraged by the Biden Administration to reexamine security protocols in the wake of prominent cyberattacks.
The Drug Supply Chain Security Act (DSCSA) was originally designed as a framework for manufacturers, wholesalers, and dispensers to comply with laws that accomplish a safer, secure, and entrusted drug supply chain. A primary objective of DSCSA is to develop models and strategies to reduce the distribution of counterfeit, stolen, contaminated, or otherwise harmful drugs. These new FDA guidances include protocols for developing data architecture systems and how industry executives can optimize interoperability during the design and build phase. The DCSCA regulatory deadline is November, 27 2023.
---
Need help implementing this new Guidance? Contact Us Now →
---
Drug Packaging
As part of the DSCSA, pharmaceutical manufacturers and repackagers are required to add a product identifier on drug packaging. The product identifier includes the product national drug code (NDC), serial number, lot number and expiration date for each package. It must be in both human- and machine-readable form (e.g. two-dimensional data matrix barcode). This is designed to help downstream partners (e.g. repackagers, wholesale distributors, and dispensers) associate the information encoded in the barcode with readable text used by Logistics teams. The updated human-readable format includes: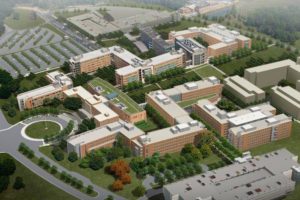 NDC: [insert product's NDC]
SERIAL: [insert product's serial number]
LOT: [insert product's lot number]
EXP: [insert product's expiration date]
Expiration Date
For select products where an expiration date includes only year and month due to space limitations, the drug's actual expiration date is recommended to be the last day of the calendar month included in the human-readable expiration date on the drug package label.
Product Identifier
Each finished or unfinished drug is subject to regulatory listing requirements. The product identifier is a standardized graphic composed of an alphanumeric serial number (up to 20 characters) that helps identify the product and package configuration. Product identifiers must be affixed or imprinted on the smallest individual saleable unit of a product, which also includes all product sold to a dispenser.
National Drug Code
Each product identifier has a unique NDC. The NDC is a FDA-assigned 3-segment format (10 or 11-digit number) to identify its labeler, product, and package size and type. In select instances, the linear barcode requirements from 21 CFR 181 201.25 will stay in effect for additional FDA-regulated products and packaging. This digital fingerprint of data will be used to accelerate the regulatory learning process. 
Suspect/Illegitimate Products
The revised FDA guidance documents also now provide increased clarity regarding the FDA's current interpretation of "suspect" and "illegitimate" products. "Suspect" and "illegitimate" products are defined as:
"counterfeit"
"diverted"
"stolen"
"fraudulent transaction"
"unfit for distribution"
Artificial Intelligence
As artificial intelligence and machine learning modernize the supply chain over time, it's not unreasonable to imagine the new bar codes could detect medication errors in real time for healthcare professionals and pharmacists. This could provide alerts to validate industry professionals are:
Giving the right drug,
Via the right dose,
Via the right route of administration,
To the right patient,
At the right time.
Regulatory Agency Response
Specific scenarios designed for risk management of a suspect product entering the pharmaceutical supply chain are also referenced. The guidance provides examples of when manufacturers should notify the FDA of a high risk product that may be or is illegitimate. Industry executives are also encouraged to collaborate with the Agency to help refine existing processes for terminating notifications.
This new clarity provides pharmaceutical executives a further glimpse into the FDA's interpretation of system attributes necessary for secure product tracing inside the marketplace. The language is noticeably more detailed at the package level and provides supporting commentary for avoiding supply chain disruptions and enhanced drug distribution security that goes into effect in November 2023.
About RCA
Regulatory Compliance Associates® (RCA) provides worldwide services to the following industries for resolution of compliance and regulatory challenges:
We understand the complexities of running a life science business and possess areas of expertise that include every facet of R&D, operations, regulatory affairs, quality, and manufacturing. We are used to working on the front lines and thriving in the scrutiny of FDA-and globally-regulated companies.
As your partners, we can negotiate the potential minefield of regulatory compliance and private equity due diligence with insight, hindsight, and the clear advantage of our unique expertise and experience.
Headquartered in Wisconsin (USA)

Regional offices in Florida, Colorado and Europe

Expertise backed by over 500 industry subject matter experts
Acquired by Sotera Health in 2021
To begin the Regulatory Compliance Associates® scoping process today, please enter your information in the blue form below and click the submit button at the bottom of the webpage.