In this soundbite from RCA Radio, Dr. Helin Raagel and Dr. Matthew Jorgensen from Nelson Labs explain biocompatibility testing. This includes the risk-based biocompatibility evaluation that medical devices go through before they receive regulatory approval.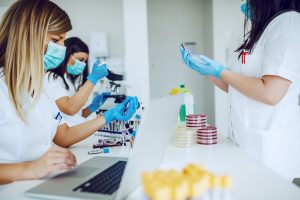 This biocompatibility risk-based approach evaluates the risk of the device through consideration of the device's cytotoxicity, irritation, and sensitization. 
Cytotoxicity – Will the device kill or harm the cells it comes in contact with?
Irritation – Will the device make contact with the patient and cause skin irritation? (Redness and/or Swelling)
Sensitization – Will the device cause an allergic reaction?
---
---
About Nelson Labs
Every year, hundreds of medical device, pharmaceutical, and tissue companies make Nelson Labs their testing laboratory of choice. For them, the decision is easy. Nelson Labs is a clear leader in the microbiology and analytical chemistry testing industry, offering more than 800 laboratory tests and employing more than 500 scientists and staff in state-of-the-art facilities.
We are known for exceptional quality and rigorous testing standards, but it is our focus on the bigger picture that sets us apart. We look beyond test results and partner with you to achieve your long-term business goals — mitigating risk, being first to market, and succeeding with your customers.
About RCA®
Regulatory Compliance Associates® (RCA) provides healthcare consulting services to the following industries for resolution of compliance and regulatory challenges:
We understand the complexities of running a life science business and possess areas of expertise that include every facet of R&D, operations, regulatory affairs, quality, and manufacturing. Our life science consultants are used to working on the front lines and thriving in the scrutiny of FDA and globally-regulated companies.
As your partners, we can negotiate the potential minefield of regulatory compliance and private equity due diligence with insight, hindsight, and the clear advantage of our unique expertise and experience.
Headquartered in Wisconsin (USA)

Regional offices

Florida
Colorado
Eastern Europe

Expertise backed by over 500 industry subject matter experts
Acquired by Sotera Health in 2021
To begin the Regulatory Compliance Associates® scoping process today, please enter your information in the blue form below and click the submit button at the bottom of the webpage.