Click to watch Regulatory Compliance Associates medical device consultant, Dr. Stephen Coulter, discuss the common tools & processes used during product development. Early stages of new product development include analyzing user needs & translating design benefits into long-term patient efficacy.
Developing an original product idea is difficult but many common tools & processes are consistently used. The early stages of product development include analyzing user needs and how those translate into design inputs.
Product Development Strategy
Ideation and product development life cycle research can help you identify user needs. Additionally, increasing the quality of an existing product is often a successful new product development strategy. Your solution doesn't have to be a radically new idea.
Does it have a substitute product that can take market share? Or, can you combine the features of multiple products during the product design process to make a combination product that patients prefer more? Could a product design consultant help answer these questions & provide knowledge transfer?
Product Development Cycle
Start by asking your cross-functional team an initial question: "What do we need to change to achieve success during the product development cycle?". Product development strategy includes modifying existing systems & processes to accelerate efficiency. Refine your model or process based on the unique types of product solutions in your pipeline.
Product Research
Being able to understand & explain why your solution addresses a user needs statement is inherent to launch sales success.  Interactive activities can be useful for improving creative conversation during market development strategy sessions. Further, voice of the customer (VOC) research consistently helps target the patient population in mind. 
Finally, using VOC to identify early adopter audiences & the audience's most important needs can increase early interest in your solution. Begin the sales process by determining core messaging ahead of the launch ramp-up based on device claims & if the regulatory submission is approved.
Market Development Strategy
User needs are the foundation of any successful market development strategy. Yet, being able to commercialize a new solution based on user needs using a team experiencing process problems is never an easy task. It requires the Engineering Team & Operations Team at the listening table earlier in the process than later. 
Product Design and Development
A critical to quality objective early in the new product development process is removing everything but the essentials. Research your users needs to create design inputs for a product that patients both need & generates revenue.
Product Planning Process
After a business case is determined in the waterfall method, the product planning process begins cross functionally to validate product ideas via new product development research. What user needs will accelerate a successful product launch the fastest?
Innovative product design means addressing honest opinions from your target audience to validate your medical device solves a problem. The product development management team must be convinced the product can win in the commercial marketplace sooner rather than later.
Software Product Design
Success during the launch of a software as a medical device is often found at the heart of the product development plan. Any new product design must incorporate value added for the audience in one way, shape or form. This can include lean product design as some of the most effective software in the industry is not complicated.
Software as a Medical Device
Consider the regulatory differences between a tangible product and a technology product very carefully. For example, Software as a Medical Device (SaMD) has changed the marketplace by increasing both clinical research success & primary care delivery. Include process improvement sessions during internal meetings where a collective group deciphers what the user need statements mean to their team. 
Agile Product Development
The vision for development begins with a minimum viable product, or MVP, during early software conceptualization & development; what is the business case of commercialization? How do we learn faster while making real time efficiency changes?  
Digital Product Development
Product development teams must answer several questions before undertaking product design. Further, one focal ask is are successful processes already in place for medical product development.
Do you have a RACI chart to show who is responsible, accountable, considered, and informed? Finally, a clear cross-functional understanding of timelines & milestones can help guide expectations during MVP product development, which can be stressful based on the speed of common work.
MVP Agile
MVP (Minimum Viable Product) a widely accepted concept in software development in digital product development. However, our medical product design discussion will take a different direction – what is the regulatory affairs process?
A project management software development team should deliver a safe, efficacious solution with the objective of delivering patient value. Define your value through a regulatory strategy based on device claims, clinical evidence, and how both help the patient population.
Regulatory Compliance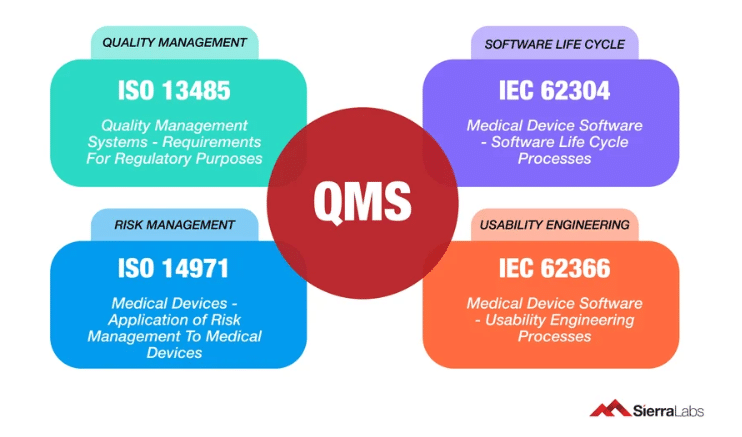 Software as a medical device involves regulatory compliance based on multiple, widely accepted global standards.
This includes:

ISO 13485
IEC 62304
IEC 62366
ISO 14791
The product development engineering team is responsible for the software process. Any prototype development assistance should begin with a regulatory compliance perspective of claims and predicate devices.
Prototype predicate concepts begin with identifying the current risk class & why use cases help validate your proposed risk class during regulatory submission. Finally, consider younger product developers who may have never been through regulatory approval in their career. FDA readiness training can be a powerful tool that increases marketing approval & how to carefully identify and isolate risk hazards.
Regulatory Pathway 
Planning the build for a product requires a regulatory pathway that includes risk management considerations based on the risk class. Create as much detail as possible during this prototyping and design inputs phase of NPD.
Product development companies, like Regulatory Compliance Associates, can help identify the correct predicate device based on a risk gap analysis.  Diagrams should include material ingredients that need to be sourced to create the product. This can help you determine the risk category of the product (e.g. patient daily use, HCP specialty use, etc.) and corresponding patient hazards.
About Regulatory Compliance Associates
Regulatory Compliance Associates (RCA) provides life science consultants & consulting services to the following industries for resolution of compliance and regulatory challenges:
We understand the complexities of running a life science business and possess areas of expertise that include every facet of R&D, operations, regulatory affairs, quality, and manufacturing. Our life science consultants are used to working on the front lines and thriving in the scrutiny of FDA, Health Canada, MHRA and globally-regulated companies.
As your partners, we can negotiate the potential minefield of regulatory compliance and regulatory due diligence with insight, hindsight, and the clear advantage of our unique expertise and experience.
Founded in 2000
Expertise backed by over 500 industry subject matter experts
Acquired by Sotera Health in 2021
About Sotera Health
The name Sotera Health was inspired by Soteria, the Greek goddess of safety, and reflects the Company's unwavering commitment to its mission, Safeguarding Global Health®.
Sotera Health Company, along with its three best-in-class businesses – Sterigenics®, Nordion® and Nelson Labs®, is a leading global provider of mission-critical end-to-end sterilization solutions and lab testing and advisory services for the healthcare industry. With a combined tenure across our businesses of nearly 200 years and our industry-recognized scientific and technological expertise, we help to ensure the safety of over 190 million patients and healthcare practitioners around the world every year.
We are a trusted partner to more than 5,800 customers in over 50 countries, including 40 of the top 50 medical device companies and 8 of the top 10 pharmaceutical companies.
Regulatory Compliance Associates Medical Device Consulting Services
The regulatory process surrounding the medical device industry involves a strict adherence to pre/post market compliance throughout a device's life-cycle. Even a single compliance issue you have can turn into a significant effect on your business. RCA®'s medical device consultants can help guide you through any stage of this strategic process, with capabilities during product development through the regulatory clearance/approval of your product.
Our team of over 500 life science consultants — including former FDA officials and other leaders in the field of medical device regulation — will work with your company to create a quality assurance and regulatory compliance approach tailored to your products and regulatory needs. RCA works with both international Fortune 100 companies and small local start-ups, as well as law firms requesting remediation for warning letters, 483's, import bans or consent decrees. We offer expertise in a variety of medical fields, such
For medical device manufacturers, technology can be a double-edged sword. The innovative technologies that elevate the quality of life for patients can also be used to potentially undermine the organization using the device. The consequences can affect the device itself if we do not implement good IoT cybersecurity and FDA cybersecurity protocols. At Regulatory Compliance Associates®, we offer a wide variety of services for medical devices security to help ensure that your product is protected from cyber-attacks.
With a well-planned design, along with full visibility of product development and the supply chain, RCA can help strengthen your device's cybersecurity posture throughout. We partner with medical device companies for the entire life cycle, including from the development of your product to the regulatory submission to your notified body.
Regulatory affairs is Regulatory Compliance Associates® 's backbone, and we handle more submissions in a month than many manufacturers do in a lifetime. We have experience working with the FDA, global regulatory bodies and / or agencies, and notified bodies worldwide. Therefore, you can count on us for in-depth and up-to-date insights which increase speed-to-market.
As a trusted regulatory affairs consultant, our FDA veterans and industry experts are here to help you navigate the difficulties associated with new product submissions. They have expertise in both the approval process and post-approval support. 
New Product Approval
Post-Approval Support
Outsourced Staffing
EU MDR
Increasingly, life science companies are feeling the pressure of greater scrutiny by regulators, and responding by developing sustainable compliance strategies. Whether it's preparing for an audit, developing a response to an FDA finding, or remediation to an adverse event, Regulatory Compliance Associates® Inc. can help.
Our network of over 500 FDA, Health Canada & MHRA veterans and industry professionals offers a unique blend of expertise that allows us to handle both simple and complex regulatory compliance challenges within the medical device industry.
Gap Assessments
Internal Audits
Employee Training
Notified Body Response
Regulatory Compliance Associates®'s Quality Assurance services include quality system assessments, strategy, implementations, and identification of quality metrics to ensure continuous improvement, aligning with your business needs and goals. Our life science consultants are quality experts with experience spanning major corporations and start-ups. We know firsthand how to achieve, maintain, and improve quality, and we excel in transferring this knowledge to your organization.
In the medical devices field, quality assurance (QA) is more than merely ensuring the quality of a finished product. You need the tools to monitor and regulate every process from the design of a new product to continued quality compliance as the device is sent to market. At RCA®, we offer you the assistance you need to monitor these processes and ensure quality compliance every step of the way.
With more than 20 years of experience as a trusted medical device quality assurance consultant, our team of over 500 industry Experts are fully equipped to handle your unique QA needs.
ISO13485 
21 CFR 210
21 CFR 211
Outsourced Staffing
MDSAP
Facility Validation
Equipment Validation
Regulatory Compliance Associates® is widely recognized within the life science industry and global regulatory agencies for its ability to help companies successfully resolve complex regulatory challenges, including remediation. With a proven track record of success, we have significant experience with the development of responses to 483 Observations, Warning Letters, Untitled Letters and Consent Decrees.
Our value goes beyond the initial response by helping companies successfully execute their action plans, develop an improved compliance culture tailored to the needs of their business, and ultimately move beyond the regulatory action to emerge as a stronger business. We negotiate difficult demands of remediation with insight and the clear advantage of our unique expertise and experience that makes partnering with RCA® Inc. a competitive differentiator in the remediation space.
Quality System
Technical File
Design History File
Data Integrity
cGMP 
Whether it's a strategy, a technical plan, or project, Regulatory Compliance Associates® life science consultants can help ensure a successful mix of people and product so your project is on time, on budget, and you're never embroiled in a costly mistake.
Our 500 industry Experts are here to provide the unique insight you need before an M&A deal, through a staffing crisis and in every area of your product's development and life cycle. As the trusted medical device manufacturing consultants of thousands of companies around the world, we have the knowledge and expertise needed to deliver exceptional results to your business — no matter your size or unique needs.
Manufacturing Optimization
Product Lifecycle Management
Mergers & Acquisitions (M&A)
Due Diligence
Device Vigilance
Product Complaints
Medical Information
Regulatory Compliance Associates Pharmaceutical Consulting Services
Regulatory Compliance Associates (RCA)® has helped thousands of pharmaceutical companies meet regulatory, compliance, quality assurance, and remediation challenges. With more than 20 years of experience with FDA, Health Canada, EU and global regulatory agencies worldwide, RCA offers leading pharmaceutical consultants that can help you navigate through the challenges associated with evolving industry regulations.
Our team of over 500 seasoned FDA, Health Canada and EU compliance consultants and regulatory affairs experts can understand the complexities surrounding the pharmaceutical industry and the unique inner workings of the regulatory process. 
Client Solutions
Whether you're in the product planning, development or pharmaceutical lifecycle management stage or need a remediation strategy for a compliance crisis, RCA® will guide you through every step of the regulatory process and create a customized approach depending on your product and your pharma company's individual needs. Our clients include:
Companies new to FDA, Health Canada or EU regulations and the pharmaceutical industry
Start-up organizations with novel submissions to 510(k) submissions from multi-national corporations
Investment firms seeking private equity due diligence for pre-acquisition and post-deal research
Law firms seeking expertise in the remediation of warning letters, consent decrees, 483's or import bans
Regulatory affairs is Regulatory Compliance Associates®'s backbone and we fully understand the complexities of the pharmaceutical and biopharmaceutical industries. Our expertise spans all facets and levels of Regulatory Affairs, from Regulatory Support for New Products to Life Cycle Management, to other services like Outsourced Regulatory Affairs, Submissions, Training, and more.
As your partner, we can negotiate the potential assessment minefield of pharmaceuticals with insight, hindsight, and the clear advantage of our breadth and depth of knowledge and experience. We offer the following four regulatory affairs services for pharmaceutical companies.
New Product Support
Product Lifecycle
Other Regulatory Services
The regulations process surrounding pharmaceutical companies can be tricky for even the most experienced industry veteran to understand, and just one misstep could mean significant and lasting consequences for your business. At RCA®, we offer the experience and resources necessary to guide you in quality compliance.
Assessments
Audits
Regulatory Agency Response
Preparation and Training
Inspection Readiness
Regulatory Compliance Associates® Quality Assurance services include assessments, strategy, implementations, staff augmentations, and identification of quality metrics to ensure continuous improvement, aligning with your business needs and goals. Our consultants are quality life science consultants with experience spanning major corporations and start-ups. We know firsthand how to achieve, maintain, and improve quality, and we excel in transferring this knowledge to your organization.
21 CFR Part 11
Data Integrity
Manufacturing Support
Facility Support
Regulatory Compliance Associates® has significant experience and a proven approach to managing FDA Warning Letters, Consent Decrees, Remediation and other serious regulatory situations. We know how to partner with executive, legal, and communication teams, and will assist management with a response that will be accepted by the regulatory agency and be realistic to execute.
We can develop a comprehensive proof book of documented objective evidence demonstrating the corrective actions taken to remediate non-compliant issues. In addition, RCA® can help prepare a comprehensive strategy to assist in your remediation efforts, drive continuous improvement, and maintain compliance with the regulations.
Regulatory Action
Warning Letter
483 Observation
Oversight Services
To begin the Regulatory Compliance Associates scoping process today, please enter your information in the blue form below and click the submit button at the bottom of the webpage.