Standard Operating Procedures (SOPs)
There are four simple sentences that define the concept of compliance and its relationship to Standard Operating Procedures (SOPs) — Say what you do. Do what you say. Prove it. Improve it.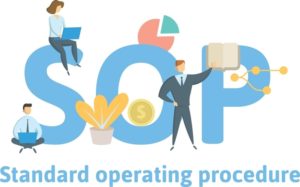 Despite this concept seeming simple, the number one topic of 483 observations for biologics, drugs, and devices from 2013 through 2017 included failure to follow procedures, procedures not in writing, and lack of adequate procedures.
In this comprehensive guide, gain practical insight into the need for SOPs, how to write them, and what should be included in them. Explore their application to the pharmaceutical, biotechnology, and medical device industries. This useful text offers a simple, yet, straightforward approach to writing SOPs, highlighting their importance in maintaining compliant operations critical to manufacturing quality products.
Upon finishing this book, you'll be able to not only write out SOPs but also follow them to fully maintain compliance.
by: Susan Schniepp, Brian Matye, and Jeanne Moldenhauer
This publication was written with the help of two RCA employees and Published was by the PDA. In this book you will develop a deep understanding of Standard Operating Procedures.