Parenteral Products Sterilization and Extractables Evaluation to Help Ensure Drug Safety
How do you ensure that your pharmaceutical product is tested correctly to get it to market as quickly and safely as possible? You can learn directly from our industry experts in Philadelphia on May 11th and 12th.
Join us for two days full of information and discussion about sterilization and lab testing, from both a microbiological and analytical chemistry perspective, presented by experts from Nelson Labs, PDA Expert Advisors, Regulatory Compliance Associates® Inc. (RCA), and Sterigenics.
You can expect to gain a good understanding of the principles of end-to-end sterility assurance, including terminal sterilization and aseptic processing. You will also gain valuable regulatory insights. Additionally, you will learn about the use of various sterilization technologies that are suitable for pharmaceutical products and about extractable and leachable testing for single-use systems (including bioprocessing equipment and pharmaceutical manufacturing) and small-volume parenterals. We'll wrap up the training by discussing requirements for container-closure-integrity testing, release testing, and stability testing.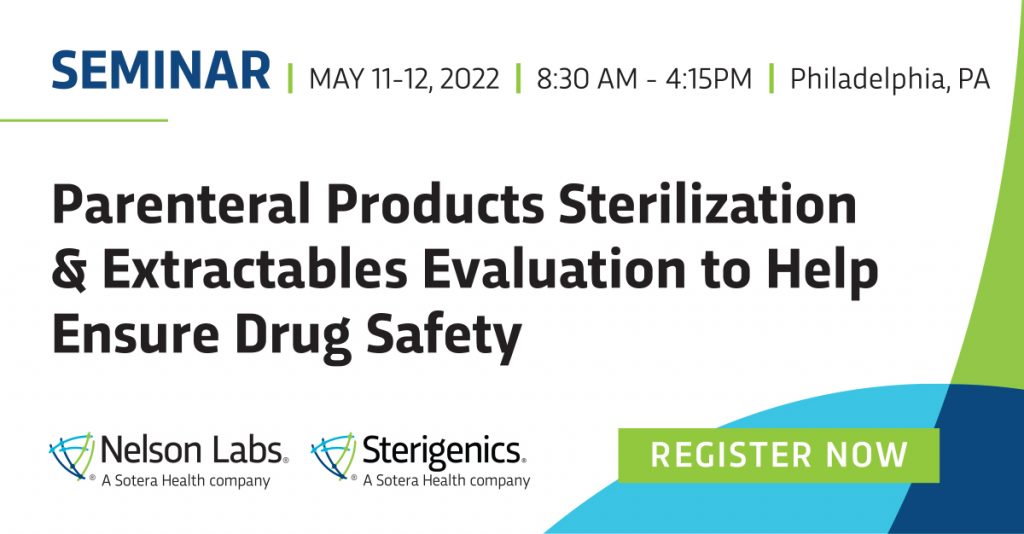 The industry experts who will be presenting will cover the following topics:
End-to-end sterilization & lab-testing solutions
Regulatory agencies' views on terminal sterilization & aseptic processing
Sterilization gas & radiation modalities
Sterilization programs
Aseptic processing compared to terminal sterilization
Aseptic processing's associated challenges
E&L considerations for pharma


Steven J. Lynn

E&L for bioprocessing equipment & single-use systems
E&L for small-volume parenteral applications
Container-closure-integrity testing
Phase-appropriate method validation
Release & stability testing requirements for parenteral drug products
Steven J. Lynn, MS, RCA's Executive Vice President of Pharmaceuticals, will be presenting on the Regulatory Agencies' View on Terminal Sterilization & Aseptic Processing on Wednesday at 9:30 am. 
---
Use the blue Contact Us form at the bottom of the page to schedule a meeting with Steven Lynn!
---
Registration deadline is April 29, 2022
About RCA
Regulatory Compliance Associates® Inc. (RCA) provides worldwide services to the following industries for resolution of compliance and regulatory challenges:
We understand the complexities of running a life science business and possess areas of expertise that include every facet of R&D, operations, regulatory affairs, quality, and manufacturing. We are used to working on the front lines and thriving in the scrutiny of FDA-and globally-regulated companies.
As your partners, we can negotiate the potential minefield of regulatory compliance and private equity due diligence with insight, hindsight, and the clear advantage of our unique expertise and experience.
Headquartered in Wisconsin (USA)

Regional offices in Florida, Colorado and Europe

Expertise backed by over 500 industry subject matter experts
Acquired by Sotera Health in 2021
About Nelson Labs
Every year, hundreds of medical device, pharmaceutical, and tissue companies make Nelson Labs their testing laboratory of choice. For them, the decision is easy. Nelson Labs is a clear leader in the microbiology and analytical chemistry testing industry, offering more than 800 laboratory tests and employing more than 500 scientists and staff in state-of-the-art facilities. We are known for exceptional quality and rigorous testing standards, but it is our focus on the bigger picture that sets us apart. We look beyond test results and partner with you to achieve your long-term business goals — mitigating risk, being first to market, and succeeding with your customers.
Companies choose Nelson Labs for:
Thought leaders and approachable experts. We give you direct access to industry authorities who understand your business and add value every step of the way.
Customer-centric culture. We take the time to understand your vision. Your goals become our goals.
Real-time project management tools and a dedicated client portal. We provide proactive information, keeping you informed and in control.
Metric-driven testing processes. We're our own toughest customer, holding ourselves to goals exceeding 99% for things that matter most to you, like quality, turnaround time, and testing accuracy.
Global compliance expertise and support. We act as a trusted advisor, helping you navigate the ever-changing compliance landscape.
See how we can help you mitigate risk, be first to market, and succeed with your customers.
About Sterigenics
Sterigenics is a leading global provider of outsourced terminal sterilization services for the medical device, pharmaceutical, food safety and advanced applications markets. Across our 48 global facilities, we offer our customers a complete range of sterilization services, primarily using the three major technologies: gamma irradiation, ethylene oxide processing and electron beam irradiation as well as nitrogen dioxide sterilization and x-ray irradiation. We are committed to addressing the growing need for sterilization across the world and partnering with our customers to eliminate threats to human health. Learn more about Sterigenics at www.sterigenics.com
To begin the RCA® scoping process today, please enter your information in the blue form below and click the submit button at the bottom of the webpage.