RCA: Driven by Excellence, Recognized for Results
What's the client benefit result of choosing RCA® Inc. as a strategic partner? Organizations, especially emerging life science companies, maintain QA/RA expertise without the cost of a high-salaried employee. When you work with us, you get Executive Consultant support who make it their passion to know the latest changes in regulations so it becomes easier to successfully navigate warning letters, consent decrees and other compliance issues. In short, you get the best in regulatory intelligence while paying for only the Regulatory Services you need. With appropriate pricing and best-in-class service, we offer the following regulatory assistance and training: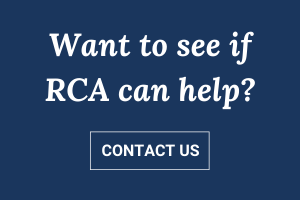 Small or emerging life science companies typically run lean, especially with personnel, often exposing themselves to quality or regulatory risks. However, for these companies, their stakeholders, and the patients whose health depends on the development of lifesaving drugs and medical devices, any delay in production can pose a significant setback, particularly when budgets and schedules are an issue. One solution Regulatory Compliance Associates® Inc. offers is to engage its regulatory services consulting experts for special projects and on-going counsel as needed.
With more than 500 RCA® Inc. associates — all seasoned subject matter experts — to partner with, it's never been easier to obtain the right advice and assistance to successfully navigate the strict and changing regulations that govern the pharmaceutical and medical device industry — like those from the U.S. Food and Drug Administration. RCA® Inc. is a skilled and experienced provider to life science companies throughout the world that need to find efficient resolutions to compliance and regulatory issues in the pharmaceutical, biologic, sterile compounding, biotechnology and medical device industries.
Whether you have received an FDA warning letter, are forming a remediation strategy, or are accelerating the release of a new product, when you have the right help on board, it can mean the difference between a successful rollout and a major crisis. This is why, regardless of where your company is in its product's lifecycle when regulatory or compliance issues arise, you want the experience of a solutions-based enterprise like RCA® Inc. in your corner. We've consulted on some of the most complex issues in the industry and our leadership has decades of FDA and regulatory experience.
Make a Difference With RCA®
Life science companies have the potential to change the lives of millions of patients. But to do this, they need to recognize and stay on the regulatory pathways that lie ahead of them. Clearly, forming compliance strategies costs money — however, it's an investment with an enormous ROI. And when you engage a consultant like RCA® Inc. that tailors its services to your precise needs, you receive the support you need for the fairest price possible.
Helping you bring your pharmaceutical products or medical devices to market, stay in the market, and eventually grow your market, is what RCA® Inc. is all about. Don't get lost in regulatory issues when Regulatory Compliance Associates® Inc. can help you see the clear path to success. Contact us today for the guidance and support your company and product need to make a difference in patients' lives.