Medical Device Strategy
Whether it's a strategy, a technical plan, or project, Regulatory Compliance Associates® Inc.'s worldwide experience can help ensure a successful mix of people and product so your project is on time, on budget, and you're never embroiled in a costly mistake. Our 500 industry and FDA experts are here to provide the medical device strategy you need before an M&A deal, through a staffing crisis and in every area of your product's development and life cycle. As the trusted medical device manufacturing consultants of thousands of companies around the world, we have the knowledge and expertise needed to deliver exceptional results to your business — no matter your size or unique needs.
We offer many strategic consulting services to guide you through the medical device development process, such as:
When you take the time to evaluate your manufacturing processes, you'll often find new ways to optimize as you discover how these methods relate to your bottom line. We help you maximize your manufacturing processes and validate aging facilities to ensure continual compliance with industry standards.
These services include:
Solutions to increase throughput and efficiency in the lab
Strategies to reduce set-up times, inventory levels, waste and costs
Risk assessments
Manufacturing automation
Validation of aging equipment and facilities
The development of a new product comes with many challenges to overcome. You have to stay within growing industry regulations and internal quality standards while speeding up the development cycle for a quick time-to-market. RCA helps you meet these challenges with new product development services such as:
Outsourced quality and regulatory support
Project and risk management
Design input and output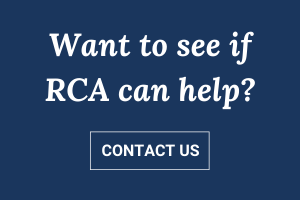 Your product undergoes a series of changes from the idea's conception through development, sales and the end of its life cycle. You can more efficiently manage these changes through product life cycle management (LCM). We offer many strategies to ease any challenges you might face throughout the life cycle, with services including:
Change management
Post-release risk management and regulatory support
End-of-life strategy
Every company goes through staffing changes throughout its lifetime, and whether you're undergoing a temporary staffing issue or need to outsource after a disruptive crisis, RCA can help. We offer staffing support services such as these to help you manage your resources and ensure your projects are completed effectively:
On-site project leadership or management support
Staff augmentation
Solution implementations for specific projects
Consulting support
Before you move forward with an M&A deal, you need a clear understanding of the associated risks and benefits. We'll help you determine the value of a deal as we evaluate the target business to ensure the right fit with your company.
We offer M&A and due diligence solutions including:
Regulatory and quality due diligence
Facility and equipment assessments
Personnel assessments
Post-merger integration
Choose RCA as Your Medical Device Manufacturing Consultants
For more than 20 years, we've guided both small and large medical device companies towards optimization and industry compliance with an array of strategy consulting services. Our experienced team is here to create a consulting solution tailored to the needs of your business and the changing demands of your industry. Partner with us as we guide you through every stage of company growth and compliance with the ideal solution to help you reach your goals.
About RCA
Regulatory Compliance Associates® (RCA) provides worldwide services to the following industries for resolution of compliance and regulatory challenges:
We understand the complexities of running a life science business and possess areas of expertise that include every facet of R&D, operations, regulatory affairs, quality, and manufacturing. We are used to working on the front lines and thriving in the scrutiny of FDA-and globally-regulated companies.
As your partners, we can negotiate the potential minefield of regulatory compliance and private equity due diligence with insight, hindsight, and the clear advantage of our unique expertise and experience.
Headquartered in Wisconsin (USA)

Regional offices in Florida, Colorado and Europe

Expertise backed by over 500 industry subject matter experts
Acquired by Sotera Health in 2021