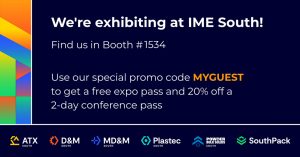 Regulatory Compliance Associates® exhibited at IME (MD&M) South at the Charlotte Convention Center in Charlotte, NC. We were excited to connect with those who stopped by our booth and talked to RCA's EVP of Medical Device and CTO, Seyed Khorashahi.
Seyed has more than 25 years of experience leading R&D teams in all aspects of developing safety-critical medical devices. Seyed has held leadership positions at Covidien (Medtronic), Baxter, and Beckman Coulter, Inc., and has an extensive background in medical device product development, quality systems, regulatory affairs, and mergers and acquisitions. Other core competencies include engineering and business strategy. 
Seyed also has significant domain expertise not only in FDA and EU standards but also in software systems and hardware development for medical devices. He has a proven track record of efficiently deploying process improvements with extensive knowledge of 21 CFR 820 and ISO 13485.
Tech Theater (June 15, 2022):
Optimize your Quality System for Software as a Medical Device (SaMD)
Seyed will give a brief overview of what software as a medical device (SaMD) is and then take a look at what is needed to Optimize a Quality System for a SaMD. We also will touch on the different risk categories associated with SaMD as well as the Clinical Evaluation and regulatory submission.
We Will Cover
Optimization of Quality Management System for SaMD products from inception to retirement and its alignment to ISO 13485

SaMD Realization and Use utilizing IEC 62304, AAMI TIR 45
Life Cycle Support Processes

Intended purpose of the SaMD (Treat/Diagnose, drive clinical management, or inform Clinical management and its impact on device classification
Submission documentation requirements for SaMD algorithm (Traditional or AI / ML)
Clinical evaluations, validations, and submissions
About IME
The all-new IM Engineering South is the six-in-one advanced design and manufacturing expo designed to give you a comprehensive view of the product lifecycle—from prototype to production. Come explore the latest insights and solutions spanning MedTech, packaging, automation, plastics, design, and processing.
Buyers, executives, and decision-makers attend this show which is the Southeast's largest design and manufacturing event with the goal of meeting new suppliers and sourcing the latest technologies.
About RCA Medical Device Services
The regulatory process surrounding the medical device industry involves a strict adherence to pre/post market compliance throughout a device's life-cycle. Even a single compliance issue you have can turn into a significant effect on your business. RCA's medical device consultants can help guide you through any stage of this strategic process, with capabilities during product development through the regulatory clearance/approval of your product.
Our team of over 500 industry experts — including former FDA officials and other leaders in the field of medical device regulation — will work with your company to create a quality assurance and regulatory compliance approach tailored to your products and regulatory needs. RCA works with both international Fortune 100 companies and small local start-ups, as well as law firms requesting remediation for warning letters, 483's, import bans or consent decrees. We offer expertise in a variety of medical fields, such
For medical device manufacturers, technology can be a double-edged sword. The innovative technologies that elevate the quality of life for patients can also be used to potentially undermine the organization using the device. The consequences can affect the device itself if we do not implement good IoT cybersecurity and FDA cybersecurity protocols. At Regulatory Compliance Associates®, we offer a wide variety of services for medical devices security to help ensure that your product is protected from cyber-attacks.
With a well-planned design, along with full visibility of product development and the supply chain, RCA can help strengthen your device's cybersecurity posture throughout. We partner with medical device companies for the entire life cycle, including from the development of your product to the regulatory submission to your notified body.
Regulatory affairs is Regulatory Compliance Associates's® backbone, and we handle more submissions in a month than many manufacturers do in a lifetime. We have experience working with the FDA, global regulatory bodies and / or agencies, and notified bodies worldwide. Therefore, you can count on us for in-depth and up-to-date insights which increase speed-to-market.
As a trusted regulatory affairs consultant, our FDA veterans and industry experts are here to help you navigate the difficulties associated with new product submissions. They have expertise in both the approval process and post-approval support. 
Increasingly, life science companies are feeling the pressure of greater scrutiny by regulators, and responding by developing sustainable compliance strategies. Whether it's preparing for an audit, developing a response to an FDA finding, or remediation to an adverse event, Regulatory Compliance Associates® can help.
Our network of over 500 FDA veterans and industry professionals offers a unique blend of expertise that allows us to handle both simple and complex regulatory compliance challenges within the medical device industry.
Regulatory Compliance Associates's® Quality Assurance services include quality system assessments, strategy, implementations, and identification of quality metrics to ensure continuous improvement, aligning with your business needs and goals. Our consultants are quality experts with experience spanning major corporations and start-ups. We know firsthand how to achieve, maintain, and improve quality, and we excel in transferring this knowledge to your organization.
In the medical devices field, quality assurance (QA) is more than merely ensuring the quality of a finished product. You need the tools to monitor and regulate every process from the design of a new product to continued quality compliance as the device is sent to market. At RCA, we offer you the assistance you need to monitor these processes and ensure quality compliance every step of the way.
With more than 15 years of experience as a trusted medical device quality assurance consultant, our team of over 500 industry experts and FDA veterans is fully equipped to handle your unique QA needs.
Regulatory Compliance Associates®. is widely recognized within the life science industry and global regulatory agencies for its ability to help companies successfully resolve complex regulatory challenges, including remediation. With a proven track record of success, we have significant experience with the development of responses to 483 Observations, Warning Letters, Untitled Letters and Consent Decrees.
Our value goes beyond the initial response by helping companies successfully execute their action plans, develop an improved compliance culture tailored to the needs of their business, and ultimately move beyond the regulatory action to emerge as a stronger business. We negotiate difficult demands of remediation with insight and the clear advantage of our unique expertise and experience that makes partnering with RCA® a competitive differentiator in the remediation space.
Whether it's a strategy, a technical plan, or project, Regulatory Compliance Associates's® worldwide experience can help ensure a successful mix of people and product so your project is on time, on budget, and you're never embroiled in a costly mistake.
Our 500 industry and FDA experts are here to provide the unique insight you need before an M&A deal, through a staffing crisis and in every area of your product's development and life cycle. As the trusted medical device manufacturing consultants of thousands of companies around the world, we have the knowledge and expertise needed to deliver exceptional results to your business — no matter your size or unique needs.
About RCA
Regulatory Compliance Associates®  (RCA) provides worldwide services to the following industries for resolution of compliance and regulatory challenges:
We understand the complexities of running a life science business and possess areas of expertise that include every facet of R&D, operations, regulatory affairs, quality, and manufacturing. We are used to working on the front lines and thriving in the scrutiny of FDA-and globally-regulated companies.
As your partners, we can negotiate the potential minefield of regulatory compliance and private equity due diligence with insight, hindsight, and the clear advantage of our unique expertise and experience.
To begin the RCA® scoping process today, please enter your information in the blue form below and click the submit button at the bottom of the webpage.