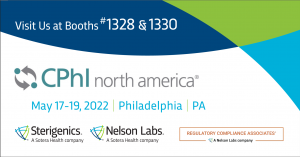 Regulatory Compliance Associates® will be exhibiting at CPhI North America 2022 in Philadelphia with Sterigenics and Nelson Labs. Stop by booths #1328 and #1330 to meet experts from each team to learn how we can provide you with a complete solution for any of your projects. Together we understand your business and are prepared to discuss solutions to your regulatory, quality, compliance, sterilization, and lab testing needs to help ensure the safety of your product and process.
Come speak with RCA's Executive VP of Pharmaceuticals, Steven J. Lynn, who will be in attendance on Wednesday, May 18th. He has over twenty (20) years of quality and regulatory compliance-related experience in the pharmaceutical, biopharmaceutical, medical device, blood, plasma, and tissue industries. He is an expert in Current Good Manufacturing Practices (CGMP) compliance-related matters and has significant experience with other GxP quality compliance and regulatory issues.
---
Use the blue Contact Us form at the bottom of the page to schedule a meeting with Steve or Follow the link below!
---
About CPhI NA
CPhI organizes the most important and widespread series of global pharmaceutical events. Our gatherings are both renowned and revered—but it didn't start in North America. With massive events throughout Asia, South America, Europe, and beyond…more than 500,000 powerful and respected pharma players from every aspect of the supply chain understand that CPhI is where they connect to learn, grow, and conduct business. With a 30-year tradition and an infrastructure fine-tuned to unite buyers, sellers, and industry trailblazers, we expanded this iconic worldwide events portfolio into the most progressive mega market on earth.
To begin the RCA® scoping process today, please enter your information in the blue form below and click the submit button at the bottom of the webpage.